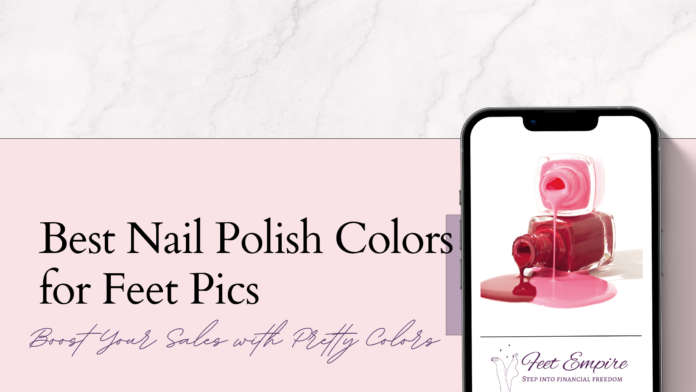 This post contains affiliate links where I may earn a commission at no cost to you.
When it comes to selling feet pics, the devil truly is in the details. It's not just about having well-maintained feet; it's also about presenting them in the most appealing way possible. And nothing adds to a foot's allure quite like choosing the best nail polish colors for feet pics.
Believe it or not, the color of your nail polish can significantly influence a buyer's decision. Some buyers even request specific colors, especially when placing custom orders on FeetFinder. If you want to cater to a wide range of tastes and preferences, it's essential to diversify your color palette.
So, what are the best nail polish colors for feet pics? Here are my top picks that are guaranteed to get those messages and orders rolling in.
"The perfect nail polish color can turn an ordinary foot picture into something extraordinary."
The Psychology of Nail Polish Colors and How They Affect Foot Fetishists
Color is a powerful tool that impacts our emotions and behaviors on a daily basis. In the world of foot pics, nail polish plays a significant role, making toes look more appealing and attractive.
Red screams passion, energy, and excitement. It's no wonder it's a go-to choice for many women when it comes to painting their nails. Buyers might find themselves drawn to red because it evokes a sense of desire and attraction.
Nude colors exude a sense of subtlety and sophistication. This might appeal to buyers who prefer a more understated and classy look, making nude an excellent choice for foot pics.
Black often represents mystery and power. A deep black nail polish can create a dramatic and striking contrast against the skin, which can be especially alluring to some buyers.
Pink is often associated with femininity, romance, and playfulness. A pop of pink might just be what's needed to pique the interest of a buyer looking for a fun and flirty image.
Blue signifies tranquility and calmness. It might not be the first color that comes to mind for nail polish, but a beautiful blue pedicure can catch the eye of a buyer looking for something soothing and serene.
When choosing the best nail polish colors for feet pics, determine your personality and the persona you're trying to show off in your content. Your nail polish color can do wonders for your personal branding and aesthetic!
Remember, the power of color is all about evoking emotions and creating a mood. So, when you're choosing a nail polish color for your next feet pic, consider what emotion you want to convey to your potential buyers.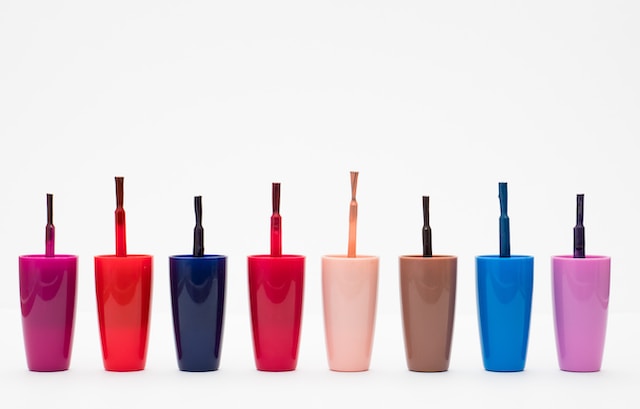 Best Nail Polish Colors for Feet Pics: 11 Must-Try Nail Polish Shades for Your Toes
When it comes to choosing the most popular nail polish colors for feet pics, it's important to consider the current trends. Some of the most popular colors right now are pastel shades, such as light pink, lavender, and baby blue. These colors are soft and feminine, which can make them appealing to buyers who are looking for a more delicate and romantic aesthetic.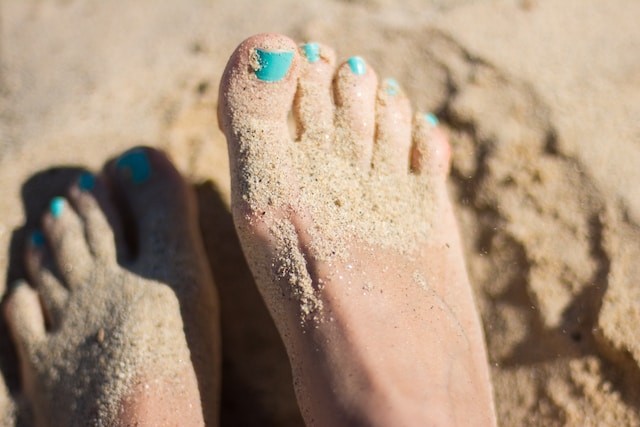 Colors That Pop: Stand Out with These Bold and Bright Nail Polishes
Make a statement and let your feet be the star of the show with these bold and vibrant nail polish colors. They not only boost your mood but also add a touch of excitement to your feet pics. Oranges, pinks, yellows, bright purples, and greens are perfect for catching clients' attention. If it stands out on the shelf, then it'll stand out on your toes!
Neutral Territory: The Best Nude Nail Polishes for a Classic Look
Neutral shades like beige, taupe, and nude are also popular choices for feet pics. These colors are versatile and can complement a variety of skin tones. They are also great for creating a natural and understated look.
Get Moody: Moody Blues and Deep Purples for a Dramatic Effect
Dark shades like black, navy, and burgundy are edgy and dramatic for feet pics. These colors create a bold contrast against the skin and make the feet stand out. They also convey a sense of mystery and intrigue that can be appealing to some buyers.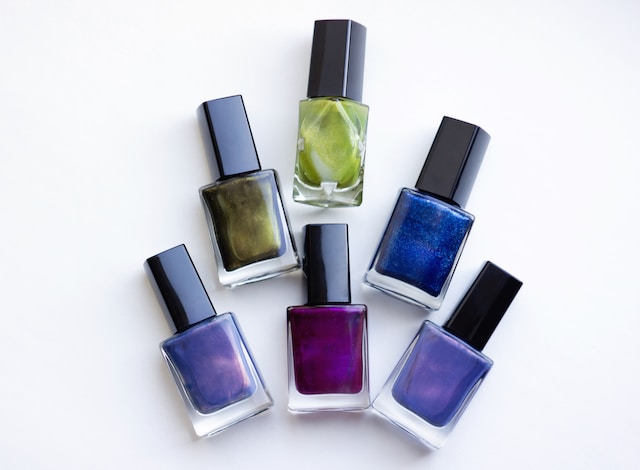 Shimmer and Shine: The Best Metallic Nail Polishes for Feet Pics
Metallic shades like gold, silver, and bronze are trendy for feet pics. These colors add a touch of glamour and sophistication to the picture. They also reflect light and create a shimmering effect that enhances the texture and details of the feet.
Red Alert: Shades of Red to Make Your Toes Look Hotter than Fire
Red is a popular nail polish color for feet pics. This classic shade is always in style and can add a bold and sexy touch to any photo. It's a great choice for women who want to showcase their confidence and sensuality.
Green with Envy: Shades of Green That Will Have Them Drooling
Emerald, mint, or olive-green nail polish is undeniably versatile, and it's the perfect color to make your feet pics pop! The color green evokes feelings of relaxation and calmness, but it's also associated with envy – aptly named for the effect it'll have on your buyers.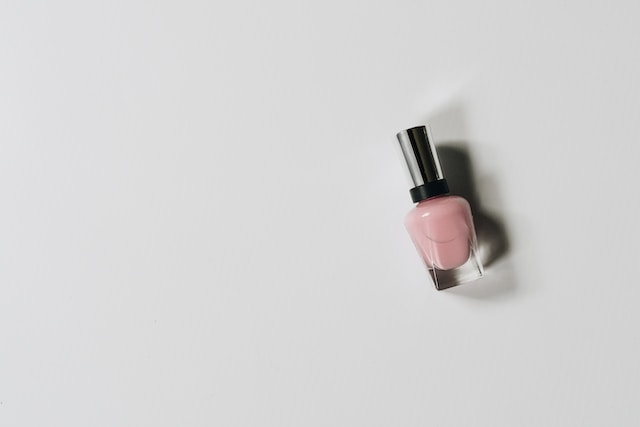 Pretty Pastels: Soft and Sweet Colors for a Subtle yet Sexy Look
Pastel shades like baby blue, lavender, and mint green are soft and feminine for feet pics. These colors create a dreamy and romantic atmosphere that can be perfect for certain themes and moods. They also complement light-colored outfits and backgrounds.
White Hot: A Crisp and Clean Look with These Pure White Nail Polishes
There's something alluring about the color white—it's simple, yet sophisticated, sexy, yet understated. When it comes to toe nail polish, white gives off a fresh, clean vibe that screams summer. It's the color of frothy ocean waves and fluffy cotton clouds. It's the perfect match for your feet, making them look sexy and, dare we say, irresistible.
White nail polish is a showstopper, especially in beach pictures. The stark contrast between the sandy shore and your dazzling white toenails is a sight to behold. Beach photos never looked this good!
Matte Magic: Edgy Nail Polish Colors That Give Your Feet Pics a Modern Twist
Matte nail polish is quite the game-changer on the beauty scene. It boasts a unique, non-shiny finish, providing a sleek, modern look that's sure to make your feet pics pop! Moreover, its edgy appearance has a way of adding an extra layer of chic to any fashion style.
Now, let's talk color. While matte polish comes in every hue under the sun, darker colors, in particular, have risen to fame in the modern fashion world.
These edgy, modern colors not only lend a trendy vibe to your feet pics but also complement a myriad of skin tones. Moreover, they are versatile enough to match various outfit styles, making them an excellent choice for boosting your feet pic sales.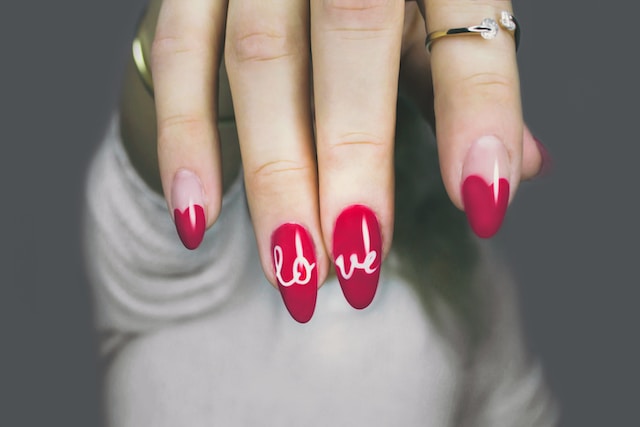 Nail Art Inspiration: Creative Ways to Use Nail Polish Colors to Enhance Your Feet Pics
As we dive into the world of toe nail art, it's important to note the immense diversity and creativity this field has to offer. Whether you're a seasoned pro or a newbie just venturing into the world of feet pics, the right nail art can elevate your game. Some clients may even request personalized designs or initials on the big toenail for a custom touch.
This is a great opportunity to combine all of the best nail polish colors for feet pics and create a memorable and extraordinary nail art design. Plus, you can charge even more for your feet pics.
Neon Nights: Electric Shades to Light Up Your Feet Pics
Bright and bold colors like neon green, hot pink, and electric blue can be great for women who want to make a statement with their feet pics. These colors are fun and playful and can help photos stand out in a crowded market.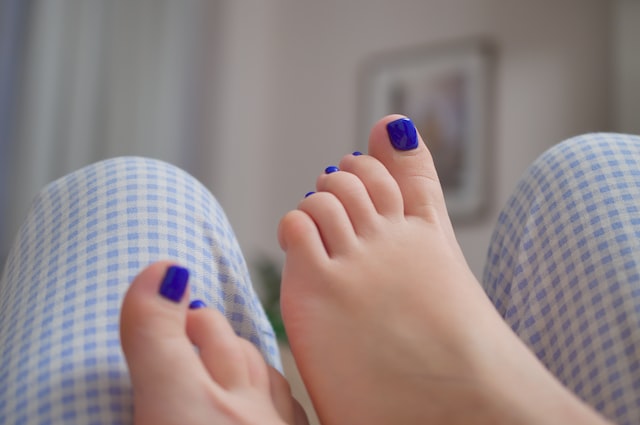 Does Nail Polish Color Impact the Price of Feet Pics?
The color of nail polish can impact the price of feet pics because it can make the feet appear more attractive and appealing to potential buyers. Certain colors can enhance the natural beauty of the feet, while others can make them look more unique and eye-catching.
For example, bright and bold colors like red, neon pink, and electric blue can draw attention to the feet and make them stand out in photos. On the other hand, soft and muted colors like pastel pink, lavender, and nude can create a more elegant and sophisticated look.
Some buyers may have specific preferences for certain colors or may be looking for a particular theme or aesthetic in their feet pics. By offering a variety of nail polish colors, sellers can appeal to a wider range of buyers and potentially increase the price of their feet pics.
Overall, the color of nail polish may seem like a small detail, but it can have a significant impact on the overall appearance and marketability of feet pics. Sellers should consider experimenting with different colors to find the best nail polish colors for feet pics and paying attention to which ones generate the most interest and demand from buyers.
When you add some foot jewelry to your photos, you can charge even more! It's a great way to pair the best nail polish colors for feet pics and sparkly anklets, toe rings, and more.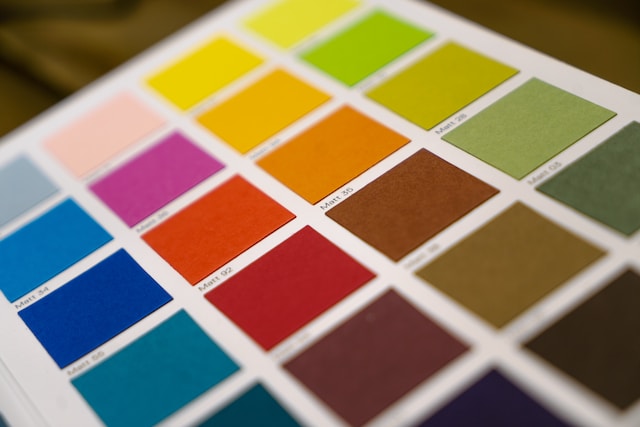 Finding Your Perfect Nail Polish Color
When it comes to choosing nail polish colors that complement different skin tones, it's important to consider the undertones of the skin.
For those with cool undertones, such as pink or blue, shades like navy, deep red, and metallic silver tend to look best.
On the other hand, those with warm undertones, such as yellow or peach, should opt for warmer shades like coral, gold, and olive green.
Another factor to consider is the depth of the skin tone. For those with fair skin, lighter shades like pastel pink, baby blue, and lavender can be flattering.
Medium skin tones can pull off a wider range of colors, including bright pinks, deep purples, and rich browns.
Darker skin tones tend to look best with bold, vibrant colors like electric blue, bright orange, and deep burgundy.
It's also worth noting that neutral shades like nude, beige, and taupe can be universally flattering and work well with any skin tone. Additionally, metallic shades like rose gold and bronze can add a touch of glamour to any look.
Ultimately, the best nail polish color for someone will depend on their personal style and preferences, but these general guidelines can be helpful in choosing shades that complement different skin tones.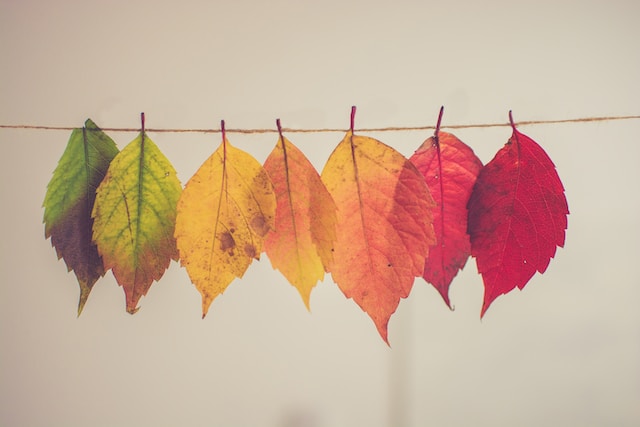 Seasonal Nail Polish Trends for Feet Pics
During the fall and winter months, darker and richer colors tend to be more popular. Shades like burgundy, navy blue, and deep purple are great choices for a more sophisticated and elegant look.
Metallic shades like gold and silver can also add a touch of glamour to your feet pics. These colors are perfect for cozy indoor photoshoots and can help create a warm and inviting atmosphere.
During the spring and summer months, lighter and brighter colors tend to be more popular. Pastel shades like baby pink, lavender, and mint green are great choices for a fresh and feminine look.
Brighter colors like coral, turquoise, and neon shades are also popular during this time. These colors are perfect for beach and poolside photoshoots and can help make your feet stand out in the sun.
the most important factor in choosing a nail polish color for your feet pics is to choose a color that makes you feel confident and beautiful.
Experiment with different shades and find the ones that complement your skin tone and personal style. With the right nail polish color, you can create stunning feet pics that will attract buyers and help you sell more.
Boost Your Side Hustle Income with the Best Nail Polish Colors for Feet Pics
With the right shade of nail polish, your feet pics can go from ordinary to stunning, which can significantly boost your earnings on platforms like FeetFinder. I've just shared my nail polish colors that are sure to make your feet look their best. Now, it's up to you to put this knowledge to good use.
FeetFinder is a fantastic platform where you can confidently and securely sell your feet pictures. It offers a safe environment and a vast audience of feet enthusiasts ready to pay for high-quality feet pics. Whether you're a seasoned seller or just starting, it's a great place to maximize your side hustle income.
To get started on FeetFinder, simply sign up, set up your profile, and start posting your beautiful, well-manicured feet pics. Remember, a well-polished nail can make all the difference!
But why stop there? For more insider tips and tricks to increase your earnings, consider signing up for the Feet Empire newsletter. It's packed with valuable insights and advice to help you earn thousands of dollars per month from the comfort of your home.
With the Feet Empire newsletter, you'll be on top of the latest trends, tips, and strategies that will help you succeed in the feet picture industry. It's your golden ticket to achieving financial freedom through this unique side hustle.
So there you have it! It's time to pick up your nail polish and get those toes camera-ready. And remember, whichever color you choose, make sure it reflects your unique style and personality. Happy selling!