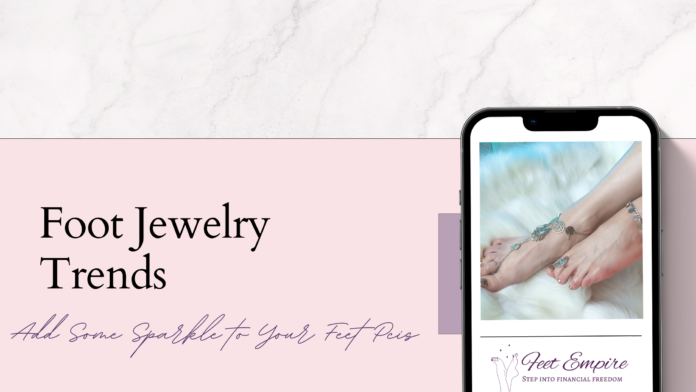 Are you tired of taking the same old feet pics using your go-to foot poses? Then it may be time to spice up your content with some sparkly foot jewelry.
A simple chain around your ankle or toe ring can add a whole new vibe to your feet pics or videos. In fact, some clients may request that you wear certain types of foot jewelry when creating custom photos for them.
Foot jewelry can be another way for you to stand out from others selling feet pics online. It adds some personality and a touch of originality.
Showing off shiny or colorful foot jewelry can be extremely helpful if you're trying to be unique, especially when you're selling feet pics without showing your face.
So, take it from someone who has been selling feet pics online for about a year and makes thousands of dollars in passive income. You want to invest a few dollars in beautiful foot jewelry (which is also a tax write-off!) to make your feet pics unique, beautiful, and attractive.
Actually, foot jewelry is one of the most popular types of feet pics that sell best online!
In this article, I'll recommend some of my favorite pieces of foot jewelry, how to pose your feet, and tips for finding foot jewelry that emphasizes your personality.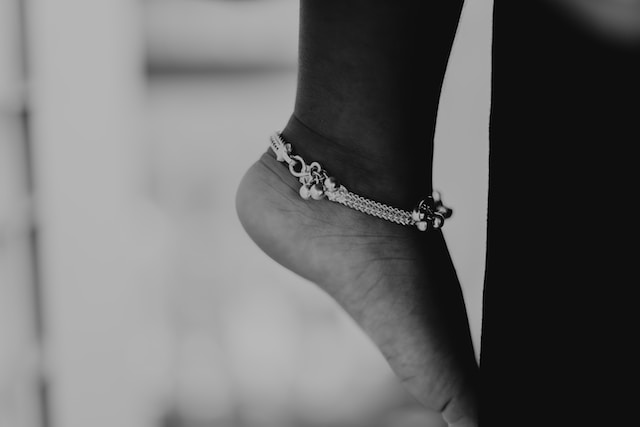 Anklets: A Stylish Statement for Your Ankles
Having a flashy piece of metal or gems around your ankle is one of the most requested foot jewelry by feet lovers looking to buy feet pics online.
With so many different kinds of anklets available, you can spice up your feet pics simply by adding a dainty chain to your look.
Popular Anklet Materials and Designs
Gold and silver anklets offer a timeless and elegant touch to your feet pics. These classic materials are versatile and can easily complement various pedicure colors and shoe styles.
Beaded and charm anklets bring a playful and unique vibe to your feet pics. Choose from an array of bead colors and materials, or opt for charms that represent your interests and personality.
Color Trends in Anklet Jewelry
Metallic hues like gold, silver, and rose gold continue to dominate anklet color trends. These colors add a touch of sophistication and glamour to your feet pics without overwhelming the overall look.
If you're looking to make a bold statement, consider vibrant-colored anklets. Bright and eye-catching colors like turquoise, coral, and fuchsia can make your feet pics stand out and garner more attention.
Anklet Pose Ideas for Feet Pics
Crossing your ankles is a simple yet effective pose for showcasing your anklet. This pose draws attention to your ankles while also creating an appealing visual effect.
Capture close-up shots of your ankle adorned with the anklet to emphasize the jewelry's intricate details. This will give potential buyers a clear view of the anklet and its unique features.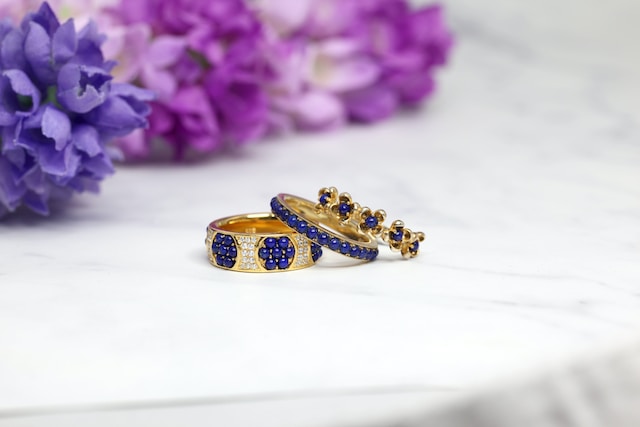 Toe Rings: Adding Pizzazz to Your Toes
Maybe you don't want to be too flashy with your foot jewelry when taking foot pics. So, you choose to wear a toe ring – or two – to glam up your content in a more subtle way.
Types of Toe Rings to Consider
Adjustable toe rings offer a snug and comfortable fit, making them an ideal choice for feet pics. These toe rings come in various designs and materials, allowing you to find the perfect style to match your aesthetic.
Stackable toe rings provide a fun and trendy way to accessorize your toes. Layer multiple toe rings in different styles and colors to create a unique and personalized look.
Material and Color Trends for Toe Rings
Sterling silver and gold-plated toe rings are popular choices for their timeless appeal and versatility. These materials can easily complement any pedicure color or foot jewelry, making them a staple in any feet pic wardrobe.
For an added touch of glamour, opt for gemstone-encrusted toe rings. These toe rings feature beautiful stones like amethyst, turquoise, and garnet, adding a pop of color and sparkle to your feet pics.
Toe Ring Pose Ideas for Feet Pics
Pointing your toes is an effective pose for drawing attention to your toe ring. This pose elongates your feet and creates a flattering angle, making your toe ring the center of attention.
Opt for casual barefoot poses that subtly showcase your toe ring. Sitting with your feet propped up or reclining with your feet resting on a surface can create a relaxed and inviting vibe, while still highlighting your toe ring.
Barefoot Sandals: A Boho-Chic Addition to Your Feet Pics
It's important to create foot content that you enjoy and feel confident taking. If you're a free spirit or like more exotic foot jewelry, then beautiful barefoot sandals could be exactly what you need for your next foot photoshoot.
Popular Barefoot Sandal Styles
Crocheted and beaded barefoot sandals are perfect for adding a bohemian touch to your feet pics. These styles exude a relaxed and free-spirited vibe, making them ideal for beach or outdoor settings.
For a more glamorous look, consider chain and crystal-embellished barefoot sandals. These designs add a touch of sparkle and elegance to your feet pics, making them perfect for more formal or sophisticated settings.
Best Materials and Colors for Barefoot Sandals
Choose barefoot sandals made from natural fibers like cotton, hemp, or linen in earth tones for a laid-back and relaxed aesthetic. These materials and colors blend seamlessly with nature, making them ideal for outdoor photoshoots.
Opt for metallic chains and colorful beads to create a more eye-catching and unique look for your feet pics. These materials add visual interest and can elevate your overall aesthetic.
Barefoot Sandal Pose Ideas for Feet Pics
Capture your feet adorned with barefoot sandals in beach or outdoor settings to complement their boho-chic style. These environments provide a natural backdrop that enhances the relaxed vibe of your feet pics.
Seated or reclining poses that highlight your barefoot sandals can create an inviting and alluring atmosphere in your feet pics. Experiment with different poses that showcase your feet's jewelry while also capturing your unique personality.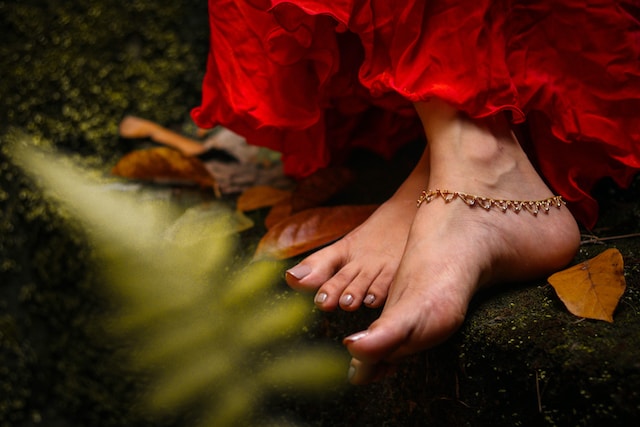 Other Foot Jewelry Ideas: Exploring Unique Options
There are other foot jewelry options rather than the traditional three I recommended above. If you're adventurous with your content, you may consider these unique and gorgeous options.
Foot Chains for a Delicate and Elegant Touch
Foot chains are a delicate and elegant addition to your feet pics. These dainty chains drape gracefully over your foot, adding a touch of sophistication and femininity to your photos.
Heel Chains for a More Edgy and Modern Look
Heel chains offer a more edgy and modern option for foot jewelry. These chains wrap around your heel and ankle, creating a bold and unique look that can make your feet pics stand out from the crowd.
Tips for Choosing the Right Foot Jewelry
When selecting foot jewelry, consider the overall theme and aesthetic of your feet pics. Choose pieces that complement and enhance your chosen theme to create a cohesive and visually appealing look.
Select Jewelry That Complements Your Skin Tone and Nail Color
Select foot jewelry that complements your skin tone and nail color. Opt for metals and materials that highlight your natural beauty and work well with your chosen pedicure shade.
Mix and Match Pieces for a Personalized and Creative Look
Don't be afraid to mix and match different foot jewelry pieces to create a personalized and creative look. Experiment with various combinations to find the perfect ensemble that captures your unique style and personality.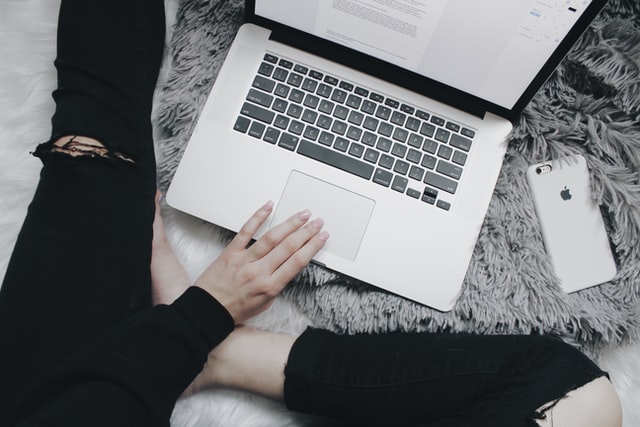 Where to Buy Foot Jewelry
While it may have been easier to find fun foot jewelry back in the early 2000s, it's still quite simple to find trendy and updated styles today.
Some of the best websites with foot jewelry are Amazon and Etsy.
If you're looking to invest in a handcrafted and durable piece of foot jewelry that will hold up for multiple photoshoots, then I recommend supporting a local artist on Esty.
You may also find foot jewelry while on vacation at the beach too!
Glam Up Your Feet Pics with Foot Jewelry
There you have it, ladies!
With these foot jewelry trends and tips, you'll be ready to explore and experiment with various accessories to take your feet pics to the next level. Plus with my other tips to sell feet pics online, you can't go wrong!
Remember, accessorizing your feet can significantly impact the appeal and success of your feet pics. So go ahead, have fun, and let your feet sparkle and shine!
Have questions about selling feet pics online? Feel free to DM me on Instagram (feetempire.online) for advice and tips!