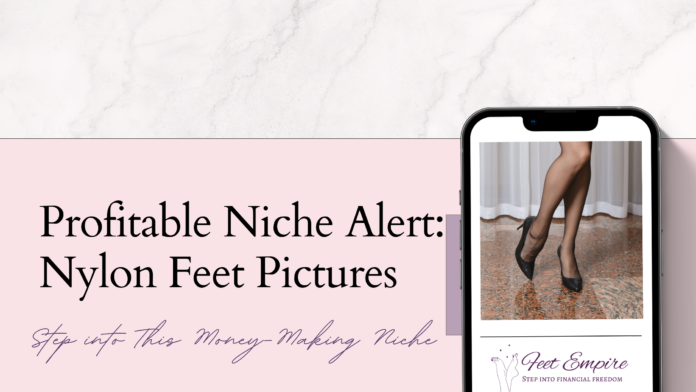 This post contains affiliate links where I may earn a commission at no cost to you.
One of the most searched and requested terms when it comes to feet pics is "nylon feet pictures." There is just something so sexy and intriguing about seeing women's feet encased in a beautiful, transparent, black nylon stocking that drives feet lovers wild! 
If you're just starting out as a foot model and you want to break into one of the most popular niches and top selling feet pic categories, then nylon feet pictures is the way to go.
Want to know the best part?
You can sell feet pics without showing your face and still earn hundreds – if not thousands – of dollars a month!
Take it from me; I've been selling feet pics and vids for over a year now without anyone knowing and it has drastically changed my life and my wallet. And one of the reasons for my success is because I decided to break into the nylon feet picture category.
In this blog post, I'm sharing my tips and tricks for making it big by selling nylon feet pictures online while feeling sexy, confident, and safe.
Want more content and advice about how to earn passive income by selling feet pics online? Join my newsletter and grab a free copy of my ebook, The Feet Pic Bible today!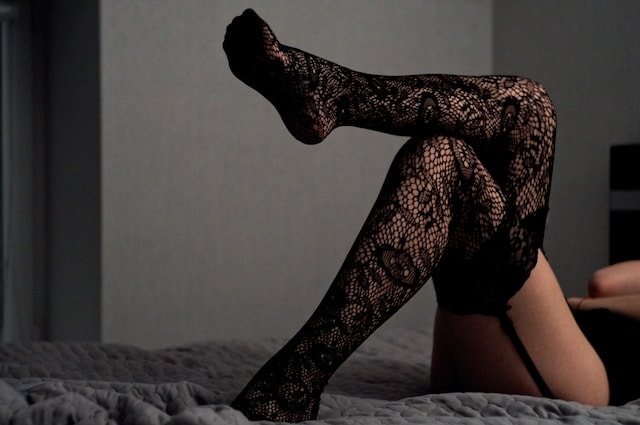 The Appeal of Nylon Feet Pictures
Have you ever wondered why nylon feet pictures have a certain allure to them, especially among feet lovers and men with foot fetishes?
Firstly, the use of nylon stockings brings a level of sexiness and mystery to one's feet. It's like the semi-transparent veil that does not expose everything – just enough to tickle the imagination and keep one curious and longing for more. There's something about the smooth, shiny texture of nylon that seems to accentuate the curves and contours of the feet, making them appear more appealing and, dare I say, seductive.
Secondly, the presence of nylon gives a certain classy vintage vibe. The sight of nylon feet harks back to the golden era of Hollywood, when glamorous movie stars would parade in sheer stockings, evoking a sense of elegance and sophistication. This adds a layer of charisma to your foot pictures as it resonates with a timeless, cinematic appeal.
Lastly, nylon feet also engage the senses in a unique way – creating an engaging visual and tactile experience. Think about the rustling whisper of nylon as it caresses the skin – the sensuous feel of the material – these elements can trigger strong sensory responses, adding up to the overall appeal of your foot pictures.
Putting it simply – the seductive blend of intrigue, elegance and sensory delight is what makes nylon feet pictures so enticing to your audience. And what does that mean for you? Well, it's a lucrative opportunity you definitely don't want to miss out on!
Sexy Nylon Stockings for Your Feet Pics
As an online foot model, stockings can be your best friend – an alluring accessory to elevate the majesty of your feet photos. Whether you're a seasoned pro or a newcomer dipping your toes in the water – get ready! We're all set to unravel some of the hottest and, dare I say it, sexiest varieties of nylon stockings to help you snap those captivating foot pictures.
Classic Black Nylons
Picture this – your feet elegantly adorned in classic black nylons, their sensual allure amplified a hundredfold. There's something undeniably sexy about classic black nylons – an essential tool in breaking into the profitable foot fetish scene.
They're the little black dress of the foot model world; timeless, arousing, and a surefire hit with all types of followers. The thin gossamer fabric accentuates every curve, every arch, every toenail, projecting an irresistible blend of sophistication and seduction.
Whether your picture portrays playful or sultry themes, black nylons guarantee to send hearts racing and scrolling fingers stopping. In the world of foot fetish content, trust me, nothing screams sexier than classic black nylons.
Fishnet Stockings
When you think about stepping up your foot modeling game, the fishnet stockings might just become your best friends. Known for their distinctive wide, open weave – resembling a fishnet, hence the name – they are an iconic fashion statement.
Fishnets exude a glam-punk, edgy appeal that can add a whole new level of allure to your foot pictures. They snag the spotlight in the fashion world, from runways to street style, and now in foot modeling, they're making waves. Nothing screams drama, confidence, and style louder than fishnets!
So why are they the second favorite? Well, while they are stunning, their design might offer less versatility compared to nylon stockings.
The broad grid pattern doesn't blend seamlessly into your skin, which can limit the range of themed pictures you can take. However, used rightly, they can make a bold and powerful statement in your images.
Just as the saying goes – with great stockings, comes great responsibility!
Lacy Thigh High Nylons
You ever wondered what makes feet enthusiasts go wild? Enter the irresistibly appealing world of Lacy Thigh High Nylons. Not only do they deliver a tantalizing glimpse into the realm of foot fantasies, they perfectly embody every aspect of what makes feet attractive to many.
The lace trim at the top; it's the crowning glory. Its delicate pattern dances gracefully on your thighs, adding that extra bit of aesthetic charm that no foot lover could resist. The lace trim is the cherry on top of the cake, the spark that ignites a fire of passion, the grand finale of an enticing performance – and boy, is it a performance to remember.
Now, imagine capturing all this exquisiteness in photos. When you take pictures in lacy thigh high nylons the entire leg comes into frame, becoming a part of a captivating tale that leaves your audience spellbound. Your legs, encased in the sheer beauty of lace-trimmed nylons, become a work of art, a sight to behold, a dream comes to life. And trust me – that's an experience no foot lover can resist.
Rhinestone Fishnet Stockings
Have you ever felt a bit more allure, the tantalizing glimmers of intrigue, when adorning rhinestone fishnet stockings? Let me tell you – each glimmer holds a power of enchantment you just can't ignore! Embellished with sparkling rhinestones, these stockings bring a whole new dimension to feet pictures.
They're not just stockings – they are a statement! Fishnet stockings already have a rich history of allure and seduction. Add rhinestones into the mix and you've got yourself a high-voltage style that screams glam and glitz right from your toes!
Rhinestones capture and refract light, creating a dazzling play of sparks that will mesmerize your audience. Imagine – the effect is much like a disco ball, except it's your nyloned feet taking center stage. Picture this – under the strong and focused lighting of a ringlight, every stone will seem to burst with light, creating an amazing spectacle for your beautiful feet. Now isn't that a sight worth paying for!
Lace Stockings
Oh, the allure of those intricate little patterns delicately woven into the fabric of lace stockings. Isn't it just captivating? Lace stockings, especially those adorned with floral patterns, are a timeless staple in the realm of foot modeling. Lace has a rich history—telling tales of royalty, refinement, and femininity, and when gracing a pair of perfectly pedicured feet, it becomes a sight to behold!
Here's a little secret—these floral lace stockings cleverly run the gamut of evoking a sensual charm and expressing vulnerability, which is a potent combo that drives foot lovers wild. You see, the intricate patterns of flowers weaved carefully into the lace give off an aura of enigmatic beauty, while the sheer fabric adds a touch of tantalizing innocence. A paradox, yes—but an irresistibly sexy one at that!
Polka Dot Nylons
Picture this – a pair of enticing feet, wrapped gently in the soft sheen of polka dot nylons. These are not just your regular nylon stockings. They boast an adorable black velvet polka dot pattern that creates a playful contrast against the sheer material.
Why are they considered sexy? Well, these stockings are associated with a sense of mystery, sophistication, and an undeniable allure. The small, sporadic dots dash across the nylon, drawing attention to the feet in a subtle yet assured manner. It's flirty – it's fun – it carries the perfect dose of retro chic to take your feet photos from simply pleasant to absolutely irresistible.
The polka dot pattern creates an illusion of smaller, more delicate feet – who wouldn't find that appealing? I can't stress enough how much these little dots can transform your feet, ladies. Give them a shot – you won't regret it!
Patterned Fishnet Nylon Stockings
Go bold with larger, eye-catching patterned fishnet stockings to keep your customers intrigued and craving more from you. The little patterned designs are intricate and call for close attention to detail. Your customers will be staring at your feet and your legs for hours after they purchase pictures and videos from you.
The tantalizing peaks of your skin peeping through the complex, woven pattern make for a truly enticing visual. It's the intersections of nylon, alternately concealing and revealing, that capture the imagination – giving just a hint, and leaving the rest to the viewer.
So it's not just about the foot – it's about the tantalizing tease of what's beneath, turning a simple picture into an irresistible game of peek-and-boo!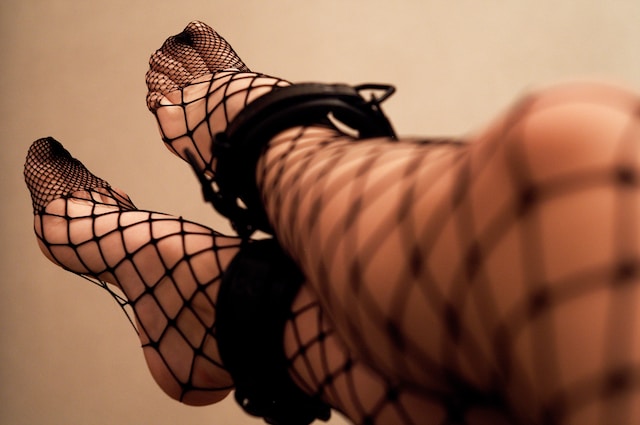 How to Take Nylon Feet Pictures
There is an art when it comes to learning how to take sexy feet pics.
You know what they say, though, practice makes perfect! Below are some tips for how to take good feet pictures when wearing nylon stockings.
Prep Your Feet
Before you point that camera lens towards your feet, there's a bit of preparatory work you have to do – yes, you heard right! Your feet need a bit of beautifying to start capturing those perfect shots. Just like you wouldn't shoot a face full of blemishes, your feet need to be in their best form too. Pic modeling may sound easy, but there's a great deal involved if you want to stand out in this crowded field.
First, let's talk about foot cream. Consider it as a moisturizer for your feet. The foot cream doesn't just keep your feet soft and smooth, but it brings out that healthy glow, making your feet look appealing in photos. Pick a good foot cream – don't skimp out on quality here! Apply a generous amount before you go to bed and let it work its magic as you rest.
Next on the list is exfoliation. Exfoliating helps remove dead skin cells, leaving your feet feeling soft and looking refreshing. You can use an exfoliating scrub or a pumice stone, but remember – be gentle. We don't want any red patches appearing before the big shoot, now do we?
Finally, give yourself a DIY pedicure. Here's where you attend to the nails – trim them, polish them up, and really make them shine! You might think it's all about the soles, but trust me, buyers are hooked on the complete look of well-groomed feet.
Prepping isn't just slapping on a bit of cream and call it a day. It's an investment in you, your work, your feet, and ultimately – your success.
Set the Scene
When you're setting the stage for a tantalizing photoshoot with your nyloned feet, it's all about the ambiance. An inviting, seductive environment can take a simple foot picture to a whole new level of allure—and instigate greater demand! So, how can we pull this off? Let me tell you.
First off, let's consider the location. While the bed may seem like a pretty mundane spot, with a bit of creativity it can easily be transformed into a glamorous setting. Choosing plush, satin or silk sheets can give an opulent feel while also complementing the smooth look of nylon on your feet.
Remember—this is your stage, and you're the star! Don't shy away from throwing in some unexpected elements. Ever thought about candles or rose petals? Generously scatter them across your bed and around your nyloned feet. They not only add an element of romance and sensuality, but their color could magically pop against the more muted color palette of your nylon stockings.
Edit to Perfection
Now that you've taken these stunningly attractive foot photos, it's time to fine-tune them to make them shine even brighter, don't you think? There's a lot more to stunning feet imagery than just the snap of the camera, my dear foot models. It's all about the after glow—editing!
Editing is what gives your nylon foot pictures that extra flair. Picture it – perfectly pitched colors, impactful shadows, and just-right brightness. Now, doesn't that sound exciting?
Talk about cropping- it can make a world of difference to your pictures. Crop them as you see fit to accentuate the allure and appeal of your nylon feet pictures. The right crop can go a long way in creating that perfect illusion of endless lines and flawless curves.
And what else, you ask? Protect your work—you've put effort into it, after all! Add a watermark to each picture. It not only adds a signature touch but also acts as a guard against those sharp-eyed copycats out there planning to exploit your hard work.
Remember, it's not just about putting pictures out there; it's about putting out the best-perfected versions of these pictures. Now, go on and create magic!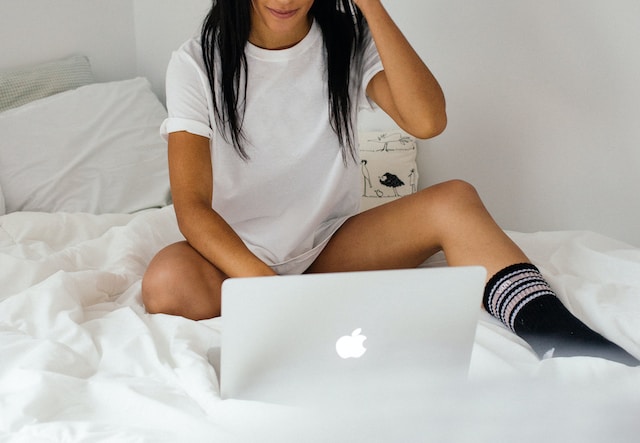 How to Make Money from Nylon Feet Pictures
So, you've grown to really like the idea of setting up a photoshoot at home with your iPhone, ringlight, and tripod, while wearing sexy nylon stockings. Now it's time to discover how to sell those photos and make money from your hard and creative work.
There are plenty of websites where you can sell feet pictures. However, my favorite sites are Feetify and FeetFinder. You get to set your own price for your content and connect with an audience that loves feet content and are willing to pay good money for your photos and videos.
Want to learn more about navigating the world of selling feet pictures?
Join the Feet Empire newsletter for insider tips and become part of an empowering community of women who want to step into financial freedom.