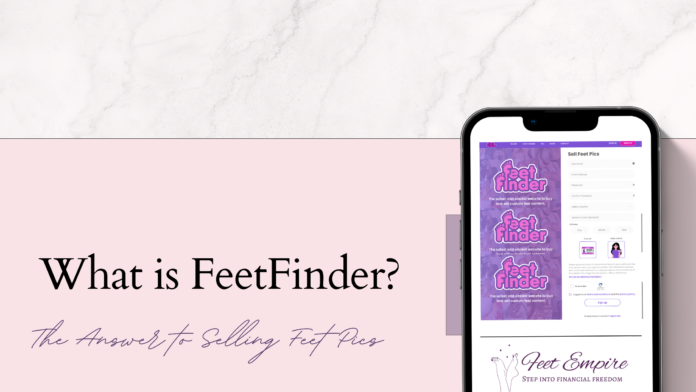 You've heard that thousands of women out there are earning thousands of dollars per month selling their feet pics on FeetFinder in a safe and legal way. But, what is FeetFinder exactly?
I'm here to give you the 411 on this innovative and easy-to-use platform that'll help you earn enough money to cover your rent each month and even go on fabulous vacations with your girlfriends.
As my personal favorite website to sell feet pictures, FeetFinder is a one-of-a-kind platform that matches sellers and buyers in a safe and secure way.
Meet with feet lovers, message about custom orders, and upload enticing photos and videos to your albums for users to buy and admire, all on FeetFinder.
What is FeetFinder? I'm doing a deep-dive into the Internet's most popular feet pic selling website and teaching you how to make the most money from it.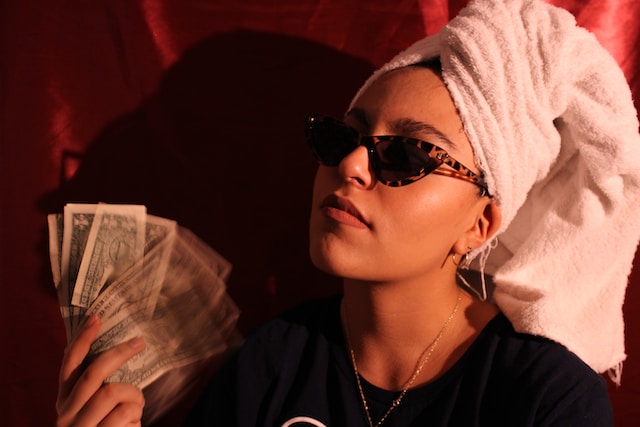 Can You Actually Make Money Selling Feet Pics?
Have you ever caught yourself wondering if you could really earn some good cash selling feet pics? Well, the answer to your curiosity is a resounding 'yes!'
In fact, how does a couple hundred or even a thousand bucks sound? You read that right! It all depends on your hustle, how much you charge for feet pictures, and the right platform, of course.
Millions of women worldwide are able to support themselves and live luxurious lifestyles thanks to the money they earn selling feet pics.
But what is FeetFinder, and how can you earn this much money using it? Hold your piggy toes, I'm getting to it soon!
How Much Can You Earn Selling Feet Pics?
You're probably now itching to know just how much cash we're talking about. Well, darling, there's no fixed rate in this game. The amount you make from selling feet pics is largely determined by your quality, consistency, and marketing skills.
I know some footsie queens raking in around $2k to $5k a month, which is a pretty hefty sum for a side gig! Talk about earning for that designer bag you've been eyeing, right?

What is FeetFinder?
Speaking of the right platform, let's get down to the real deal.
What is FeetFinder, you ask? Simply put, it's an online marketplace specifically designed for buying and selling foot content.
Picture it as an eBay or Etsy, but solely for feet lovers. And just like you'd sell vintage clothes or handmade crafts on those platforms, on FeetFinder, it's all about feet.
When you learn how to sell feet pics on FeetFinder, you can earn a limitless amount of money each month from the comfort of your home!
Is FeetFinder Safe?
The million-dollar question: is FeetFinder safe?
Absolutely!
Your safety is their priority. With stringent measures to ensure anonymity and safe transactions, FeetFinder is all about creating a secure environment for buyers and sellers alike.
It's the equivalent of your girls having your back during a night out.
What is FeetFinder if not a safe and secure website for you to earn money from the comfort of your own home while building confidence?
Do I Have to Show My Face on FeetFinder?
For my girls who value their privacy, here's the good news – you can sell feet pictures without showing your face on FeetFinder.
You can absolutely sell feet pics without revealing your identity. Think of it as a masquerade ball, but instead of fancy gowns and masks, it's all about those beautiful pedicured feet.
There are thousands of women who are protecting their reputations and selling feet pics without anyone knowing and using FeetFinder to do it successfully.
As someone who hides her identity and never shows my face in my content, I can vouch that FeetFinder is one of the best places to sell your faceless sexy photos.
How Does FeetFinder Work?
Understanding how FeetFinder works is as easy as getting your favorite cocktail from the bar.
First, you sign up and create a seller account. Once your account is verified, you upload your content, set your prices, and start attracting buyers.
The platform even allows you to chat with potential buyers – kind of like flirting with a cute guy at a party, but online and focused on your feet!
There are also promotional features and boosts you can invest in to show up on the front pages of the FeetFinder platform. This will put your profile in front of interested buyers and increase your sales.
How Does FeetFinder Pay Sellers?
The point of selling feet pictures online is to make some extra cash, right? So, how does FeetFinder pay sellers?
Once you make a sale, FeetFinder ensures you get your hard-earned money, as smoothly as your favorite dance move.
Payments are processed through a safe and secure system, and you can cash out your earnings with ease.
You can receive payments via PayPal or through a bank transfer. When the payment shows up on your statement, it won't stay FeetFinder, either. So, you can keep your secret side hustle hush hush from prying eyes.
When you have earned at least $30 in sales, you can cash out and receive them within a day or two.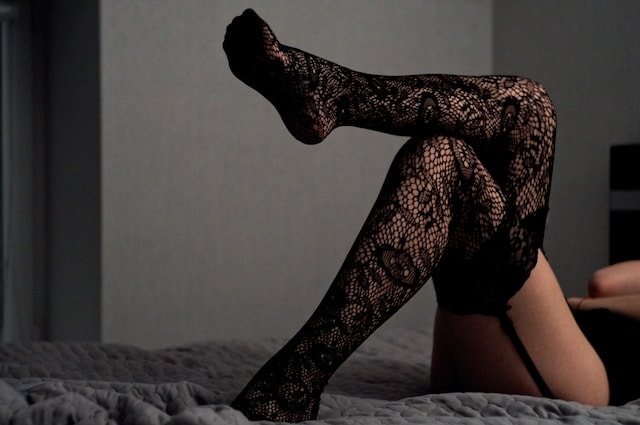 How to Sell Feet Pics on FeetFinder
What is FeetFinder like when selling feet pictures and becoming an active seller?
Well, it's easier than you may think to get started and begin earning hundreds of dollars per week with your beautiful foot content.
Step 1: Create an Account
Just like signing up for a new social media account, the first step is to create a seller account on FeetFinder.
It takes just a few minutes to enter your information.
Step 2: Verify Identity
For your safety and the platform's integrity, you'll need to verify your identity. It's like a bouncer checking IDs at the door – it keeps the riff-raff out.
Verifying your identity is crucial to ensure you can legally sell feet pictures at 18 years old or above. It can take about 24 hours for FeetFinder to process your information.
Don't worry; they will never share your identity with third parties or buyers. Your secrets are safe with them!
Step 3: Upload Content
Next up is uploading your glamorous foot content. Remember, quality is key, so make sure your pics are top-notch.
Knowing how to take good feet pictures is a game-changer in the feet pic-selling industry. Buyers are looking for high-quality content that will satisfy all of their desires.
When you upload your photos and videos, set a price, and add a detailed description, you'll attract buyers from all over the world.
It also helps to fill out your profile and write an enticing FeetFinder bio to attract buyers to your content.
Step 4: Message Buyers
Just like sliding into someone's DMs, you'll be able to message potential buyers, build relationships, and learn what kind of content they enjoy.
Messaging and flirting with potential clients can also help you earn more money with custom orders. Buyers will message you to request specific poses, settings, and content for a higher price than what you normally sell your content for.
Step 5: Get Paid
Finally, get paid for your hard work! It's like that satisfying feeling when you order that luxurious vacation you've been saving up for.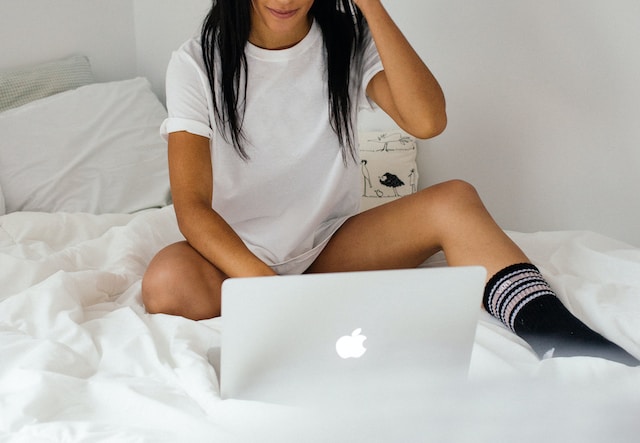 Is FeetFinder Free to Use?
FeetFinder is not free to use as a seller. You will have to sign up for a membership, but they are really affordable! Think of it as an investment in your side hustle business.
There are multiple memberships to choose from. Personally, I chose the premium membership for $29.99 per year. It gives me more access to platform features, and I saved on the annual plan!
How Much Can I Charge for Feet Pictures on FeetFinder?
Just like selling vintage items, pricing your feet pics depends on various factors. Your pricing could be anything from $5 to $100, or even more! It's all about knowing your worth, darlings!
Remember, you can charge more for feet videos, depending on the content too.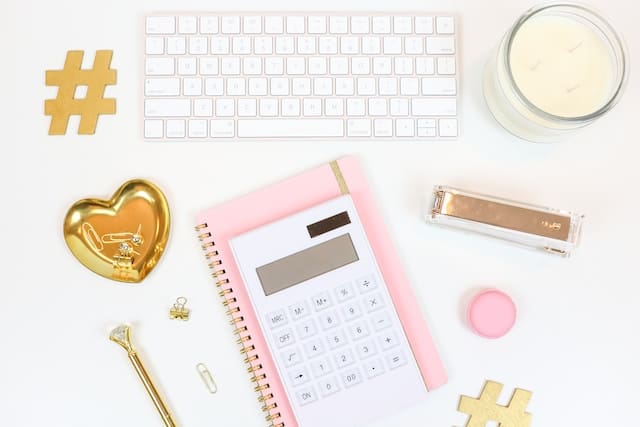 Does FeetFinder Report Your Income?
Ah, the serious stuff – taxes. Yes, FeetFinder does report your income. So, don't forget to pay your taxes, girls! We don't want any nasty surprises, right?
You can read my guide about FeetFinder and Taxes to make sure Uncle Sam doesn't come knocking for money he's owed.
The Best Site to Sell Feet Pics Online
Is FeetFinder the best site to sell feet pics online? If you ask me, it's absolutely up there. With a safe and secure environment, FeetFinder takes the guesswork out of selling foot content.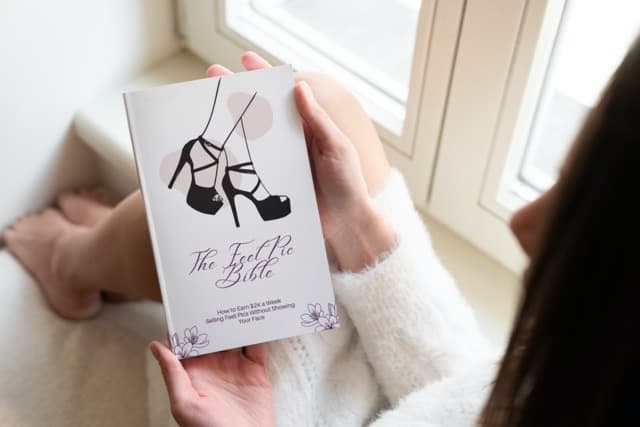 Start Earning Money from Your Feet Pictures Today!
Ladies, it's time to polish those nails, snap some footsie pics, and start earning. FeetFinder is your ticket to turning those beautiful feet into cold hard cash.
What is FeetFinder? It's a world of opportunity for women who want to earn hundreds to thousands of dollars per month working from home while boosting their confidence.
Want to learn more about how you can create passive income from selling feet pictures online? Join my newsletter for my firsthand tips and tricks today!
Plus, you'll get a free copy of my ebook, The Feet Pic Bible: How to Earn $2k a Month Selling Feet Pics Without Showing Your Face, when you join.
Ready to jump in and start selling? Create your FeetFinder account today!