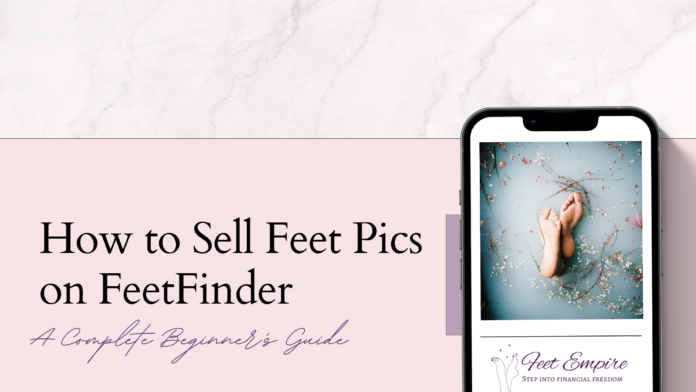 You're in need of some extra cash to make rent or finally afford that Channel bag you've had pinned on Pinterest for the last few years. You've found out that selling feet pics can earn you an extra few hundred dollars a week, but you're curious about how to sell feet pics on FeetFinder to get started.
FeetFinder is one of the top sites to sell feet pictures – and you don't even have to show your face while doing it!
As the leading and most-visited website for feet pic sellers and buyers, the earning opportunity is limitless. If you take great feet photos, learn how to market yourself, and create custom content for clients, you may be able to say goodbye to your day job.
Even if you are super new to the feet pic selling community and have never taken a foot pic in your life, this is the ultimate guide for beginners about how to sell feet pics on FeetFinder successfully – so you can finally go on that luxurious vacation.
In this blog post, I'm sharing industry secrets and tips on how to sell feet pics on FeetFinder, the go-to platform for this niche.
Buckle up; this is going to be an exciting ride!

What is FeetFinder?
FeetFinder is your one-stop solution to all things feet pics. It's a specialized platform designed to safely and securely connect those who sell feet pictures with eager buyers worldwide.
And the best part? You can sell feet pics without showing your face!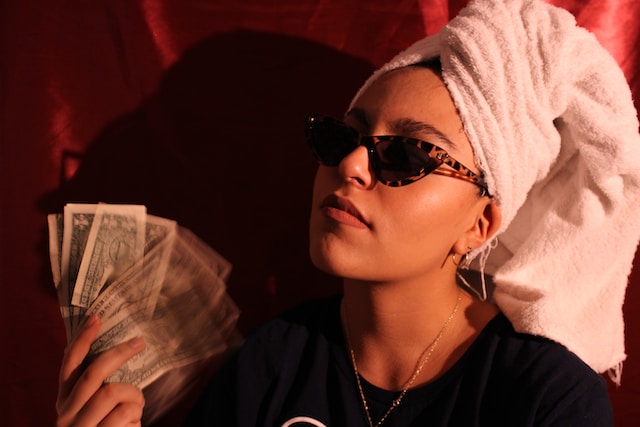 Why Sell Feet Pics on FeetFinder?
Okay, ladies, let's get real. When we're talking about selling feet pics online, you have to admit the internet is quite the wild west.
From dodgy buyers to insecure platforms, it can be an anxiety-inducing journey, especially when you're just starting out. So, why not opt for a platform that takes the guesswork out of the equation?
Enter FeetFinder – your knight in shining armor in the world of feet pics!
It's safe, it's secure, and it's designed specifically for the feet-loving community. Still on the fence?
Let's strut down this lane together and explore why FeetFinder is your ultimate platform for selling feet pics in 2023. Say goodbye to uncertainties and hello to empowerment and, of course, that sweet extra cash!
Secure and Safe
Your safety is the top priority at FeetFinder. They're committed to secure transactions, ensuring all payments are processed safely. It's like having a burly bouncer at your digital door, keeping any potential scam artists away.
When it comes to safety and security, FeetFinder takes it up a notch. Imagine having your very own digital bodyguard, protecting you from unwanted attention and the occasional creep.
FeetFinder implements rigorous measures to maintain the safety of its community. They go through and delete any buyer accounts considered spam or dangerous. This ensures that you interact only with genuine, verified buyers.
Think of it like having a security detail at an exclusive VIP event—only the ones on the list get in. You can rest easy knowing that the people buying and appreciating your foot art are respectful and legitimate.
By prioritizing your safety, FeetFinder creates a sense of security that is critical when selling feet pics. This commitment to your peace of mind lets you focus on what's important—creating great content, building connections, and making those dollar bills, all while sipping your favorite drink in your PJs. Now that's what I call working smart!
Niche Content and Audience
FeetFinder is like a high-end boutique where you've got a niche audience who appreciate and value your content. These people are not just looking for pictures—they want the experience, and they're willing to pay for it!
Alright, let's think about this. Have you ever visited a farmers market and noticed the artisanal cheese stall?
The way they know their product inside and out, the passion they have for their craft, and the customers who keep coming back for more because they share the same love for it?
That's what FeetFinder is like for the feet pic community!
Selling on FeetFinder isn't like trying to catch a fish in the vast ocean of the internet. Instead, it's like having your very own, specialized fish tank.
Here, you'll find a niche audience who are genuinely interested and invested in what you have to offer. They are not just buyers—they are connoisseurs of feet pics, and they value the time, creativity, and effort that goes into creating unique and appealing content.
This tailored audience can significantly improve your chances of making consistent sales. After all, you're not trying to sell a pair of stilettos to a sneaker fanatic.
On FeetFinder, you're presenting your unique feet pics to an audience that's already looking for, appreciating, and buying exactly what you offer.
So, when you choose FeetFinder, you're not just selling pics—you're providing content for a dedicated, supportive community that truly values your art.
You can cater to their specific interests, explore different themes, and truly get creative. It's more than just a business; it's an ongoing, profitable conversation with your fan base!
Remember, honey; it's not just about selling to everyone—it's about finding the right ones who are eager for what you've got. And on FeetFinder, you're stepping right into the spotlight.
Promotional Opportunities
With FeetFinder, your feet pics aren't just lost in the crowd – they can be front and center!
For a small fee, FeetFinder offers promotional opportunities to get your content seen by more people. Your foot art could appear on the front page of the website, the top of search results, or even be featured in FeetFinder's social media.
It's like having your name up in lights, except, you know, it's your feet!
Promoting your profile gives you an edge, helping you stand out from the crowd and reach a wider audience. And a wider audience equals more potential buyers, more sales, and yes – more income.
It's like opening night at a Broadway show – the spotlight's on you, and the audience is eager to see your performance!
And the best part? You get to decide when and how you want to use these promotional services. Going on a girls' night out and need some extra cash? Promote your content for that boost! Launching a new themed album? Promote it to attract more viewers!
So, whether you're a newcomer trying to get your first sale or a seasoned FeetFinder star aiming to increase your earnings, promotional opportunities can give you the exposure you need to strut your stuff in style. Remember, darling, in this business; it's all about being seen!
Fair Commission Rates
Let's talk money, honey! You've taken the time and effort to capture these photos, and FeetFinder ensures you're compensated fairly.
You'll get to take home 90% of your sale profits when you sell feet pics on FeetFinder as a Premium seller.
Now, some women may be shocked that the platform keeps a percentage. However, it's a small price to pay to have your content put directly in front of feet lovers who desire beautiful feet and pretty toes.
Community Management
FeetFinder isn't just a platform—it's a community. They have a team ensuring everyone plays nice, so you can focus on creating content and making money.
This is just another testament to how safe and secure FeetFinder is compared to other websites and platforms where you're on your own selling content.
Number One Site for Selling Feet Pics
FeetFinder isn't just another site—it's THE best site to sell feet pics. If you want to turn those pedicures into paychecks, FeetFinder is your new best friend.
As you explore different methods to sell feet pics, you'll find some websites that are downright sketchy and others that don't necessarily offer the same perks as FeetFinder.
I've been using FeetFinder for over a year to fund my luxury shopping sprees and weekend vacations, and I can honestly say that it is the best site to sell feet pics.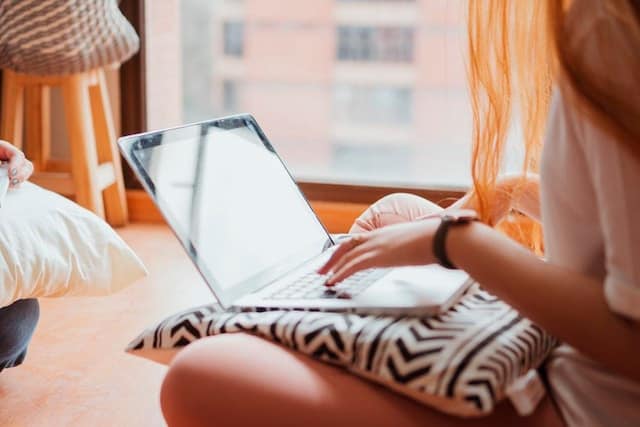 How to Sell Feet Pics on FeetFinder
When joining a new platform, it can feel like you're a small-town girl walking through the busy streets of New York City or Milan. You aren't sure which street to turn down or which people to smile at.
You may experience the same feeling when signing up for FeetFinder, especially if this is your first time selling feet pictures online.
Below is a step-by-step guide for how to sell feet pics on FeetFinder and attract tons of customers to your profile.
Step 1: Create an Account
Kick off your journey by creating an account on FeetFinder. It's as easy as signing up for online shopping (and just as addictive)!
You'll simply fill out your information and verify your identity.
Don't let the ID verification scare you away. I want to express that FeetFinder does not reveal your identity or share your information with anyone! This part is to verify that you are over 18 years old and that you can legally sell feet pics online.
Check out my blog post, How to Create a FeetFinder Profile in 5 Simple Steps, to learn more about the sign-up process.
Step 2: Fill Out Your Profile
Next, fill out your profile. This is your chance to show potential buyers what makes you unique. Let your personality shine brighter than those new diamond studs you've been eyeing!
You can add personal information (whether it's your details or your character's details) to your profile such as your foot size, hair color, height, eye color, etc. These details are enticing to buyers who want to picture the woman attached to the feet they're admiring.
The real game-changer is writing a bombshell FeetFinder bio, though.
In your bio, you'll let your potential clients know what type of content they can expect from you, what services you offer, and a little bit about your personality.
Step 3: Upload Your Content
Time to show the world those beautiful feet of yours! Upload high-quality pics and videos for your audience to marvel at. Remember, quality over quantity!
When you learn how to take good feet pics, you'll experience a world of difference in how many sales you make. Clear, well-lit photos and videos are the secret to making hundreds of dollars a week selling feet pictures.
You can add up to 10 photos to an album on FeetFinder. However, you cannot include a video in your photo album. Videos can only be uploaded individually.
Step 4: Set Your Price
This is the juicy part, deciding what your work is worth.
Set prices that reflect your time and effort. On average, women price their albums from $5 to $50, with custom orders and videos priced up to $200.
You know your worth!
Consider how much time you spent creating your content and preparing your feet with nightly foot cream routines. Don't underprice your beautiful feet content.
Knowing how much to charge for feet videos and how much to charge for feet pictures will put you ahead of amateur feet content sellers.
Step 5: Optimize Your Albums
Want to up your feet game? Create themed albums or use keywords that will attract your target audience. This is your chance to get creative and stand out!
Give your album a spicy title and description, enticing buyers to check out the rest of the sexy photos you have inside.
When creating an album, it's a good idea to "unlock" the first photo or cover image so customers can see what they'll be getting when they purchase your content.
Step 6: Make Your First Sale
Once your albums are up and running, sit back, relax, and watch the sales roll in. Celebrate every sale, no matter how small.
They are steps towards your financial freedom!
Step 7: Get Paid!
Your favorite part, right? FeetFinder makes sure you get your earnings, with secure transactions, straight to your account.
One of the most common questions I get is how does FeetFinder pay sellers?
Once you have earned a minimum of $30, you can request a payout from FeetFinder. Don't worry; the transaction on your account won't come from a company called "FeetFinder," so you can sell feet pics without anyone knowing.
It's super easy and just a few clicks of a button.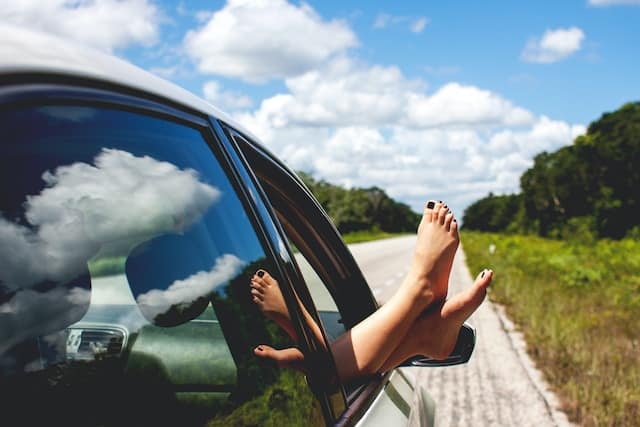 How Much Can You Make on FeetFinder?
Can you imagine earning up to $2,000 per month just by selling feet pics? Talk about an exciting weekend getaway with your girlfriends, right?
It all depends on the content you produce and how much time and effort you put into promoting yourself, chatting with clients, and collaborating with other foot models.
The earning potential is limitless when you learn how to sell feet pics on FeetFinder.
The secret is to provide custom orders for clients. You can charge more than you would for an album available for everyone. This is where the bulk of your money will come from when selling feet pics online.
Is FeetFinder Free to Use?
FeetFinder operates on a basic and premium membership subscription.
The Basic membership is $14.99 per year, while the Premium is $29.99 per year. They even offer a lifetime membership for $89.99.
The Premium membership shows buyers that you're a serious seller with high-quality content. You can also directly chat with clients, so you can discuss custom orders and have the ability to upload more photos and videos than someone with a Basic membership.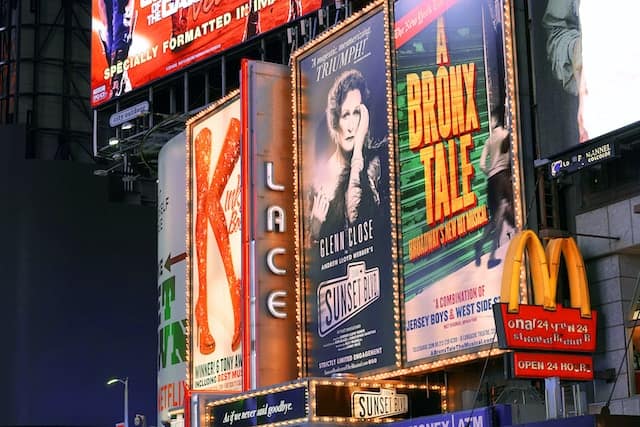 Get More Exposure on FeetFinder
Want to be the star of the FeetFinder community? They offer promotion services where you pay a small fee to be at the front of the newsfeed. It's like being on the VIP list!
This small investment can truly pay off when you sell two or three times as many photos and gain new and recurring clients.
Can Men Sell Feet Pics on FeetFinder?
Absolutely! FeetFinder is an inclusive platform, open to everyone. While men can sell feet pics, it can be a bit more difficult than if you were a woman. There is a market for men's feet pics; though small, it still exists.
Don't let that stop you, though! Every great person overcomes challenges heroically.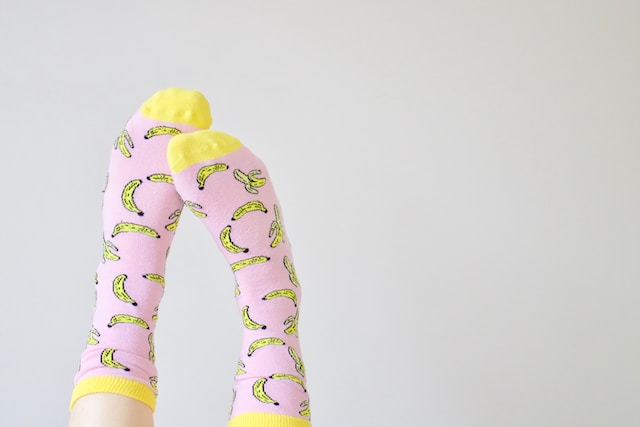 Is FeetFinder Safe?
Another common question I see a lot asks, "Is FeetFinder safe?" FeetFinder prioritizes your safety. Transactions are secured, and the community is managed to ensure everyone has a positive experience.
My FeetFinder review, after using the platform for over a year, boasts about its commitment to keeping sellers safe. I can successfully hide my true identity and chat freely with clients that I know are not trying to scam me.
Start Selling Feet Pics on FeetFinder Today!
Ready to give it a go? Kickstart your journey with FeetFinder.
Sign up, upload your best feet pics, and watch your earnings grow.
And hey, why not join the FeetEmpire newsletter and receive my free ebook, The Feet Pic Bible: Earn $2k per Month Selling Feet Pics Online Without Showing Your Face.
It's full of insider tips on how to maximize your foot fame!
So, go on, take the plunge! Dive into the world of FeetFinder and let your feet do the talking.