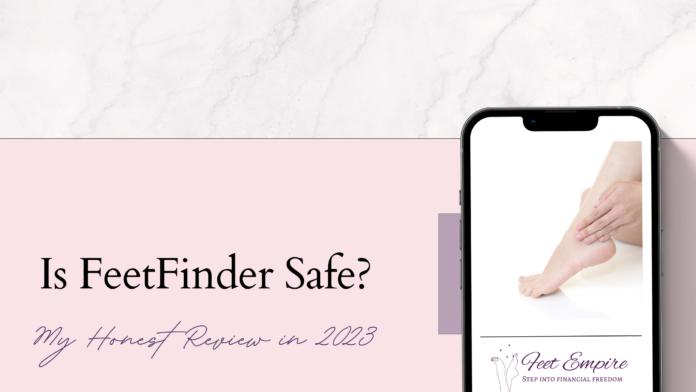 One of the best sites to sell your feet pics and earn money right from your couch is FeetFinder. As a new feet pic seller, you may ask yourself, "Is FeetFinder safe?"
I understand your concern! When you're new to selling feet pics online, signing up for a website dedicated to selling feet pictures can feel a bit uncomfortable and unsafe. Many people think it's a scam, and they just want to take your information.
I'm here to tell you that FeetFinder is a legit website and feet content marketplace and is completely safe to use!
I started selling feet pics without showing my face last summer while in between jobs, and it completely transformed my life… and my bank account. FeetFinder was the first website I signed up for, and I couldn't have asked for a better experience.
So, is FeetFinder safe? The answer is yes!
With thorough user verification and the removal of potentially dangerous or scammy customers, FeetFinder is completely safe for both buying and selling feet pics online.
As my favorite place to sell feet pics, I can't recommend FeetFinder enough. So, to ease your nerves and help you get stared with your new, sexy side hustle, I'm listing all the reasons why FeetFinder is safe in this blog.

What is FeetFinder?
FeetFinder is an online marketplace where people can buy and sell feet pictures.
It's a place where people with a foot fetish can find pictures of feet to purchase and where sellers can make money from their feet pictures. It's a pretty straightforward concept, but it's also an excellent way for people to make money from their feet pictures anonymously.
How Does FeetFinder Work?
FeetFinder is super easy to use. As a feet content seller, you'll create a profile and upload pictures and videos that you want to sell. You are able to create different albums based on the content for people to buy.
Feet lovers who want to purchase your feet pics and videos will find your profile and either purchase the content you have uploaded or ask for custom orders.
Having a catalog of albums and videos is a great way to earn passive income through FeetFinder. New buyers will come across your profile and purchase old photos even if you aren't uploading content every week.
You'll get a notification when someone purchases an album, and the money will go directly into your account. Keep in mind that FeetFinder does take a commission. There is also a FeetFinder minimum payout fee of $30 to transfer the money from FeetFinder to your bank account.
You can read thousands of FeetFinder reviews about positive experiences from others making money selling feet pics on TrustPilot.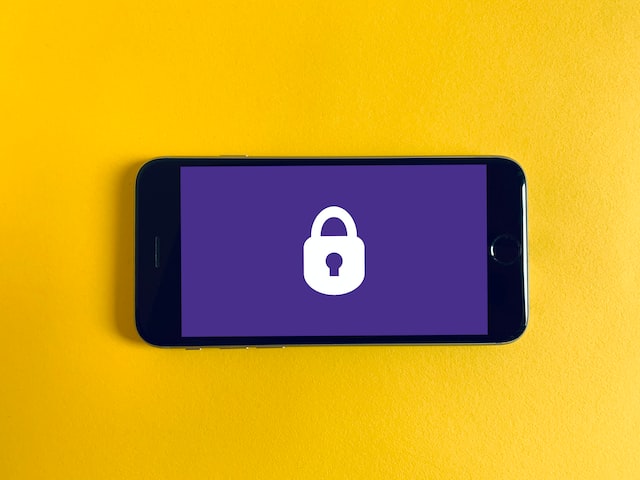 How FeetFinder Keeps Sellers Safe
FeetFinder takes the anonymity and the safety of its users very seriously. They have a few different measures in place to protect your identity and keep you safe while selling your feet pics.
Secure Sign-Up Process
FeetFinder has a secure sign-up process that keeps your personal information private.
To create a FeetFinder account, you must provide some personal information, such as your social security number. I know this will turn away a lot of girls looking to make money selling feet pics, but FeetFinder is safe and legit.
The reason FeetFinder asks for such personal information is because you'll be earning money through them. You will have to pay taxes on the money you earn if it is more than $600 per year. (If you follow my advice, you could be making $2,000 per month!)
It's also important to note that FeetFinder uses secure servers to process the sign-up information, which means that your personal information is kept safe from hackers and other malicious actors.
So, when you're signing up for FeetFinder, you can rest assured that your personal information is kept private and secure. And that's one less thing for you to worry about when it comes to selling your feet pictures anonymously.
Anonymous User Accounts
Once you create an account, your profile will be anonymized. This means that your real name, address, and other personal information are not visible to other users. Instead, you will be identified by a username only.
You can choose to share as much or as little information as you want on your profile. I recommend creating a new persona or character to play as when you're selling feet pics online. It's a fun and creative experiment to pretend to be someone else.
Encrypted Messaging
FeetFinder also has an encrypted messaging system, which means that your conversations with buyers and sellers are private and secure.
However, if FeetFinder suspects that a buyer is trying to communicate with you and purchase feet photos outside of the FeetFinder website, they will ban the buyer's account. Many times this is a scammer looking to communicate with you on social media.
So, while the messages are encrypted, the professional safety team can detect if a user is trying to go against the website's rules to keep you safe.
Payment Anonymity
FeetFinder will pay feet pic sellers electronically. Don't worry about the name "FeetFinder" showing up on your bank statements or PayPal account, though! The deposits will be under another company name, so you can anonymously earn money selling feet pics without anyone knowing.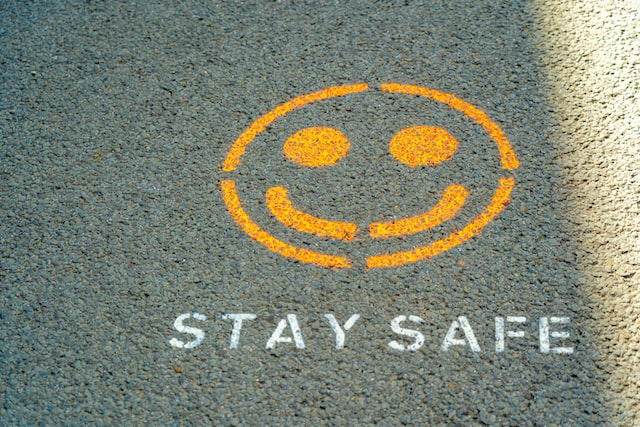 How to Stay Safe Selling on FeetFinder
While FeetFinder does its best to keep you safe, there are still some steps you should take to keep yourself safe when selling your feet pics.
Be Careful with Personal Information
Even though your personal information is kept private on FeetFinder, it's still important to be careful with what information you share.
Through FeetFinder you can message buyers who want to buy custom orders. This is a great way for you to increase your FeetFinder earnings. As a FeetFinder seller, you can set your own price based on the custom order.
However, while messaging buyers, don't share your real name, address, or phone number. Remember, the reason you want to sell feet pics without showing your face is to stay anonymous!
Block Suspicious Users
If someone on FeetFinder seems suspicious or makes you uncomfortable, don't hesitate to block them. Trust your gut and take action to protect yourself!
You should always feel comfortable, confident, and empowered when selling feet pics online. There is no amount of extra money in the world worth making you feel unsafe.
Even if you are selling feet pics elsewhere, like on social media, it's important to block suspicious buyers as they could eventually scam you.
Common Scams to Watch Out For
While FeetFinder does a great job of keeping its users safe, there are still some common scams to watch out for. When you educate yourself about the potential dangers and scams, it's easier to protect yourself and your wallet.
Recommended Blog: How to Sell Feet Pics Without Getting Scammed
Phishing Scams
Be wary of emails or messages that ask for personal information, such as passwords or credit card numbers. These could be phishing scams, where someone is trying to steal your personal information.
Escrow Scams
Be careful of buyers who ask you to use an escrow service or a third-party payment service. These could be scams, where the buyer will take your money and never send you the payment.
Gift Card Payments
You may come across someone who buys feet pics and asks to pay with a gift card. Avoid this scam at all costs!
Oftentimes, the gift cards are stolen or empty. Since they are untraceable, there is no way to get the money you're owed.
Some scammers may ask you to "unlock" a gift card by paying them a small amount of money. Never ever send money to a buyer who promises to buy feet pics from you.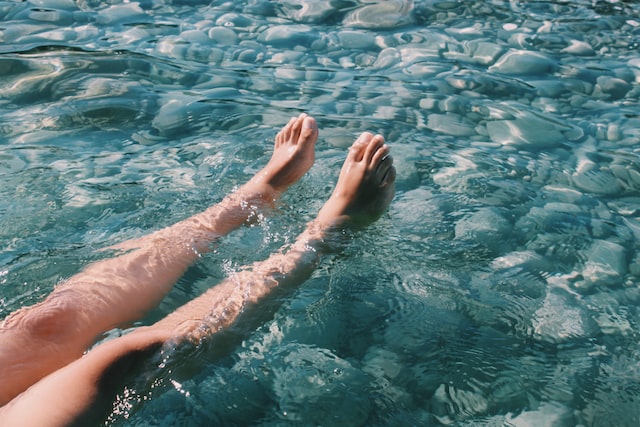 Final Thoughts: Is FeetFinder Safe for Selling Feet Pics?
After reading FeetFinder seller reviews and following my guides for how to keep your FeetFinder account safe and make money selling feet photos, you're going to find just how safe FeetFinder is.
You will never ask the questions, "Is FeetFinder safe?" or "Is FeetFinder legit?" again!
When you sign up with my FeetFinder referral program code and create an account, you'll be on your way to safely and anonymously earning money simply by selling photos of your pretty feet.
As a trusted and reliable website with a top priority to keep its sellers safe, FeetFinder does an amazing job with protecting you from scams.
Are you ready to start earning thousands of dollars a month just by selling feet pics?
Sign up for FeetFinder today using my referral code and send a screenshot of your activated profile to my Instagram account, feetempire.online to receive a FREE copy of The Feet Pic Bible: How to Earn $2k a Month Selling Feet Pics Without Showing Your Face.
Sign up for FeetFinder and get your FREE guides on how to sell feet pics today!