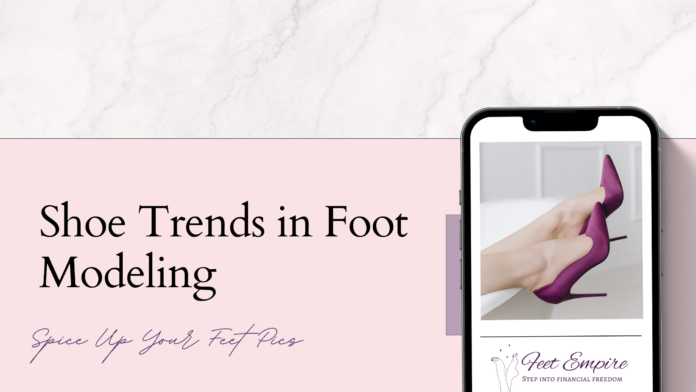 This post contains affiliate links where I may earn a commission at no cost to you.
As a foot model selling feet pics online, you may feel a little bored with your regular content. That's where these trying these top shoe trends in foot modeling comes into play! 
Spice up your content with sexy, beautiful, and sometimes funky, shoes that will grab attention from current clients and potential new customers.
I mean, as women, we're always looking for an excuse to throw on a sexy pair of heels and strut our stuff, right?
Now is the perfect time to hop on these captivating shoe trends in foot modeling and start snapping away.
I've been selling feet pics without showing my face for over a year now and I must say, picking a niche in the top-selling feet pic categories and keeping my content spicy with foot jewelry and heels makes a huge difference – especially when it comes to my bank account.
By the end of this blog post, you'll know exactly what kinds of shoe trends in foot modeling are making money right now so you can successfully step into financial freedom.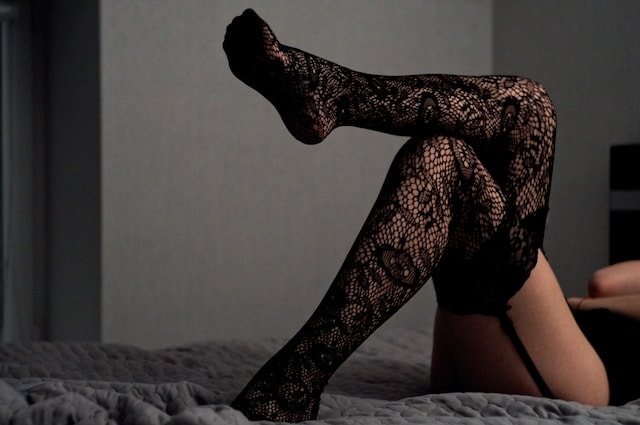 What is Foot Modeling?
If you're wondering what foot modeling is all about, you're about to open a door to an incredibly diverse world! Broadly speaking, foot modeling falls into three main categories – let's dive right in.
First and foremost, foot modeling is used for selling pictures online. There are thousands, if not millions, of foot lovers out there on the internet- and guess what? They're willing to pay for quality foot content. So, if you've got those Cinderella-esque, Instagram-worthy feet, why not turn them into your side hustle?
But it's not just about the foot fetish community. Foot modeling also opens up opportunities to sell content to marketing agencies and businesses. These organizations are often on the hunt for perfect feet to market their products; ranging from sandals to nail polish, creams, and even jewelry. Your feet could be the next big thing on billboards, TV commercials, or across social media!
Finally, foot modeling isn't solely confined to the virtual sphere. Many individuals leverage their aesthetic feet into a career of physically modeling shoes and jewelry for various marketing campaigns. With the right feet, you could be trying on designer shoes and ankle bracelets, your foot's image getting captured by the industry's top photographers – sounds exciting, doesn't it?
Read Next: Where to Sell Feet Pics Online
So, whether it's catering to foot lovers, appearing in promotional content, or strutting your stuff on the set of a photoshoot – foot modeling offers opportunities as unique as your toes!
How to Make Money from Foot Modeling
Alright – let's get down to business. We all know why you're here: as an aspiring foot model – or possibly an experienced one looking for fresh ideas – you're on the lookout for how to turn your toes into tantalizing ta-da's. Don't worry, you're in the right place!
The beauty of foot modeling – just as with any form of modeling – is the versatility of ways to make money. Here's the deal:
Charge per Photo or Video
First up – charging per photo or video. Whether it's posing your pedicured feet amidst roses or filming them taking a frothy bubble bath, content is king. And does it sell? Oh, you bet!
Now, there's no one-size-fits-all pricing strategy here. You could sell your pictures or videos on a variety of sites, setting prices based on the quality of your pictures, your popularity, and what you feel comfortable with.
The Subscription Service Strategy
Another great option is the subscription service strategy. Platforms like OnlyFans or FeetFinder allow foot models to earn a steady income from loyal fans who pay a monthly fee to access exclusive pictures and videos. It's like your own personal foot theater liberated on the web!
You're in control here, setting your own prices and updating content to keep your subscribers satisfied – and coming back for more.
Professional Foot Modeling
But what if I told you there's even more to explore? Yes! If you're really serious about foot modeling, you might consider going professional. This could mean signing contracts with modeling agencies that need foot models for their clients – from shoe companies to nail polish brands and beyond.
While it often involves more work (think auditions and photo shoots), the pay – and the prestige – can be significantly higher. And who knows? You could end up being the foot version of Naomi Campbell or Tyra Banks!
But remember, the key to success in foot modeling – or indeed, any endeavor – is passion, dedication, and most importantly, having a fun attitude towards your work.
Shoe Trends in Foot Modeling
If you're looking to spice up your feet pic content with some accessories, you can't go wrong with trying the current shoe trends in foot modeling.
I've listed the most popular and sexiest shoes foot models are strutting around in this year to help you get more customers and make money.
Stilettos
You know what's sleek, sexy, and adds a generous hint of glamour to any foot picture? Yes, you guessed it–it's the timeless stiletto!
Uniquely contoured, the profile of a stiletto alone can send pulses racing, and with good reason. They enhance the foot's natural arch, bringing attention to those perfect toes in a way that no other shoe type can. Major celebs often flaunt their Louboutins–a go-to brand in the stiletto world, renowned for its iconic red sole–with every strut that they take.
Fans around the globe not just admire but covet the luxe appeal of these heels. So why not use that to your advantage? Remember, stilettos in your foot pics not only highlight your feet's beauty but they also serve as a symbol of exquisite taste and unparalleled elegance.
Wedge Heels
Wedge heels, with their unique design, have a substantial fan following. Unlike stilettos, these heels have a solid bottom, which extends from the heel to the toe – creating a wedge. It's their distinctive design that makes them irresistibly charming.
Classic Wedges: Known for their comfort and balance, they're perfect for showcasing well-pedicured feet.
Cork Wedges: These playful variants carry a casual, summer vibe – offering a glimpse into your fun-loving personality.
Platform Wedges: With their added height, they make feet look slender and elongated.
For a foot lover, wedge heels are more than just footwear. They're an artistic expression that amplifies the aesthetic appeal of feet. It's the perfect combo – beauty and style, all in one frame!
Knee High Boots
It's time we talk about knee-high boots — a tantalizing trend hard to resist. Why? Well, they have a certain allure about them — an undeniably sensual appeal that keeps the audience captivated. You see, knee-high boots reach just below your knee, emphasizing the slender lower half of your legs and the delicate curve of your ankle. They're assertive, they're daring, and most importantly they're sexy!
The variety in styles and materials too, is nothing short of a fashion wonderland. From sleek patent leather bringing a luxurious edge, to soft suede offering a subtle elegance and rustic appeal — you're spoilt for choice! Whether they're lace-up, zippered, or pull-on, the range of designs can effortlessly stir up that sultry vibe.
And let's not forget the added versatility for any outfit. Whether you're going for a casual day look or an enchanting evening ensemble, these boots can instantly elevate your feet pictures!
Strappy Heels
Oh, the allure of strappy heels! They have a magical way of transforming feet into oases of elegance and class, captivating the viewing audience instantly. What can be sexier than the combination of delicate skin and sassy straps crisscrossing in a fascinating pattern? Strappy heels are a dreamscape for foot modeling enthusiasts.
The intricate design of these shoes showcases the shape and arch of the foot, making them irresistibly attractive. Like a forbidden fruit, they tease with glimpses of skin, sparking intrigue and desire. No wonder they're an A-list favorite for those seeking to buy feet pictures.
Charm them with your sexy side – those strappy stunners are your secret weapon!
Sparkly Heels
If's one shoe trend that should never be missed, it's the allure of sparkly heels. As someone who's walked in many pairs for foot modeling gigs, I can tell you—they're a total game changer in the world of foot modeling. If you're selling feet pictures on the side, sparkly and glitter heels can be your golden ticket!
Why are these twinkling sensations such a big hit, you ask? It's simple—they bring a level of glamour and sophistication that feet lovers find absolutely mesmerizing. Each sparkle highlights the shape and arch of your foot, making every pose even more attractive. It seems almost as if your feet are being given the red carpet treatment! And let's not forget the way they shimmer in different lighting—now that's a surefire way to keep the eyes glued to your feet.
Pumps
Oh girl, let's chat pumps! Classic, sleek, and undeniably sexy – they're an absolute game-changer to level-up your foot content. Yes, they might be the go-to for the office, but believe me, their appeal extends way beyond the cubicle.
High-heeled pumps are renowned for their transformative quality. They can take a plain ensemble and turn it into a head-turner. Imagine what they can do for a foot selfie! Their soaring heels and elegantly shaped toe adds an instant allure, making the feet look slender and groomed. Not to mention, they can give that intriguing, coquettish vibe – isn't that what we're aiming for?
Forget the mundane, it's time to have some fun with pumps! There's a whole spectrum of delight from glossy patents to chic faux leathers. So, why not exploit them to make your foot content stand out? After all, nothing says look at me quite like a pair of striking pumps!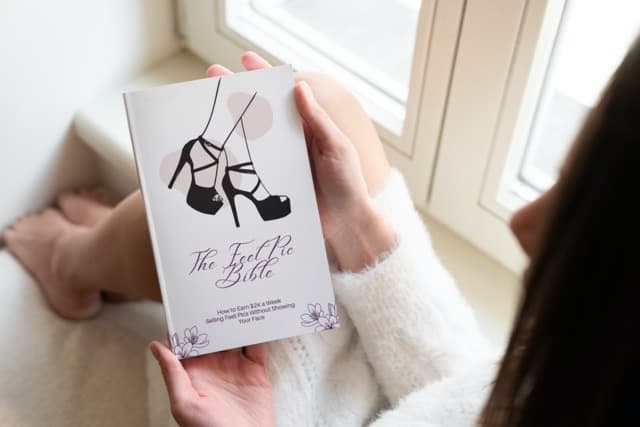 Stock Your Shoe Closet and Start Making Money as a Foot Model
Now that we've covered the shoe trends in foot modeling, it's time to put your newly found styles to work!
Dig through your shoe selection or head over to Amazon or Famous Footwear and place an order for a shiny new pair of shoes for your next photoshoot.
Tease your new purchases on your Instagram, letting your followers know that new content is coming soon so that they can get excited for it.
Then set your content for sale on my favorite platform, FeetFinder, and start earning hundreds of dollars per week!
Want more insider tips and tricks about selling feet pics online? Join my newsletter for weekly advice straight to your inbox. Plus, you'll get a FREE copy of my ebook, The Feet Pic Bible: How to Earn $2k per Month Without Showing Your Face!