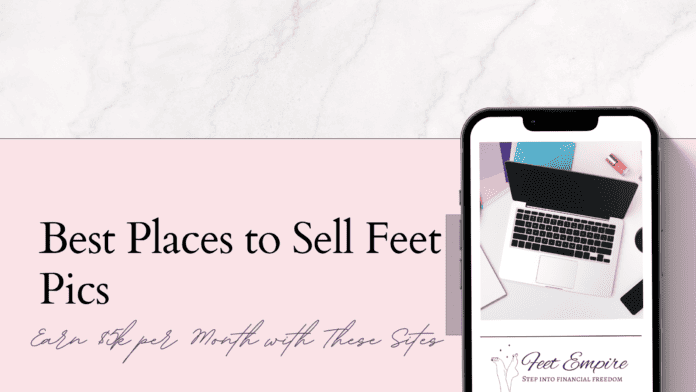 Have you ever come across a viral TikTok about selling feet pics for some serious cash? Believe it or not, selling feet pics online is a legit hustle, and more people than you'd think are getting into it. Part of your success depends on whether you're using the best places to sell feet pics, though.
Picture this, you, your smartphone, and your pedicured toes working together to make an extra $5k a month. Sounds crazy, right?
It's not!
You can earn a life-changing amount of money each month with a bit of creativity, confidence, and strategy. As I said, though, part of being successful in this business is choosing the best places to sell feet pics.
Now, as a beginner, I don't expect you to know where the best places to sell feet pics are – which is exactly why you're reading this right now!
I'm sharing the top five most lucrative, legit, and safest places to sell feet pics online to earn you some extra money each month and finally buy that pair of Jimmy Choos you've had your eye on for years.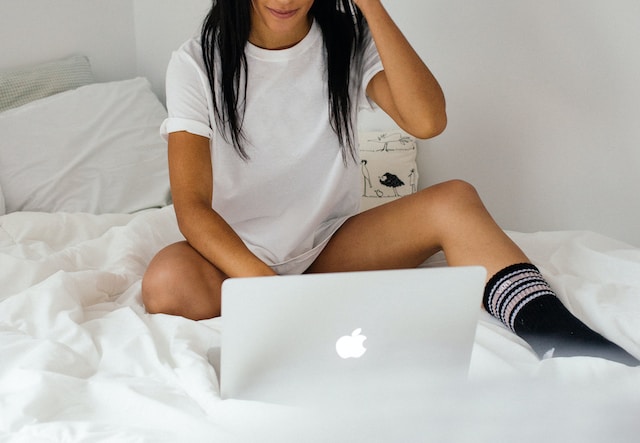 Why You Should Sell Feet Pics Online
Now, I know what you're thinking – "Selling feet pics online? Really?" Yes, really!
Here's the thing: in an era where side gigs and hustles are not only acceptable but encouraged, selling feet pics online is a simple, straightforward, and potentially lucrative business.
This unique gig is just as legit as any other online money-making venture. It's an entirely legal, relatively easy, and a potentially very profitable way to put your feet to work.
Plus, you can keep it a secret and maintain your privacy while making bank. This hustle might just help you afford that luxury vacation or designer bag you've been dreaming of!
How Much Can You Make Selling Feet Pics?
Selling feet pics can be surprisingly lucrative. You can earn anywhere from $20 to $100 per picture, or even more if you get regular customers or if your pics are especially high quality.
With consistent effort, you could make a life-altering $5k a month just by snapping a few shots of your trotters. Just imagine what you would do if you had that much extra money each month in your bank account.
How many nice restaurants would you visit?
How many days of shopping in the city would you spend?
How many stocks would you invest in to prepare your future self for retirement?
The opportunities are endless!
If you really want to dive into the details about how much you can earn, read my blog about how much to charge feet pictures next.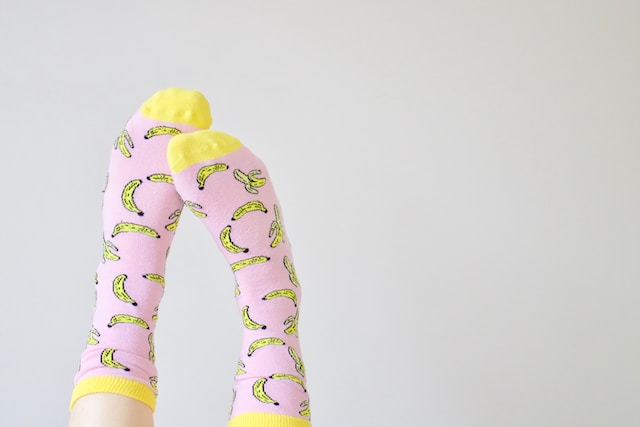 Where to Sell Feet Pics – Why It Matters
Choosing the right platform to sell your feet pics is crucial. This is what can make the difference between a hobbyist feet pic seller and a professional one earning thousands of dollars per month.
No matter how creative or sexy your feet pictures are, if you aren't putting them in front of the right people, then it won't matter.
Audience
Different platforms and websites attract different audiences. Some platforms have a thriving community of feet lovers and enthusiasts who are ready and willing to pay top dollar for your pics.
For women who are just starting out in the industry and do not already have a social media following, these dedicated feet pic-selling platforms are the perfect way to break into the industry.
Content Restrictions
Some platforms have strict rules about what kind of content you can post, so it's essential to read up on these before creating an account.
For example, some people want to know how to sell feet pics on Instagram. While it is possible, it can be quite tricky due to the community guidelines and content restrictions. Even with the best hashtags for selling feet pics and bio descriptions, the app could instantly lock your profile if they suspect you're soliciting sexual content.
Safety
This is a biggie! Always prioritize your safety online, especially with the hidden dangers of selling feet pics.
Make sure the platform you choose has secure payment methods and good policies to protect sellers. Many of the dedicated feet pic-selling platforms have securities in place to keep their models safe and avoid getting scammed while selling content.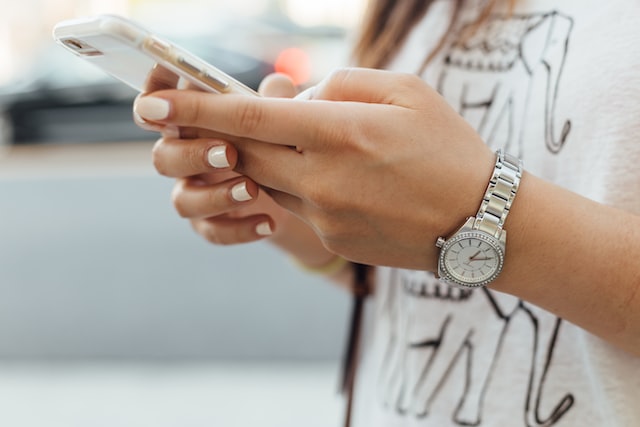 Best Places to Sell Feet Pics
After trying and testing multiple websites and platforms to sell feet pics safely and lucratively, these are my top five favorites where you can earn $5,000 per month!
FeetFinder
FeetFinder is a secure and dedicated platform for selling feet pics. It's a marketplace for both feet pic buyers and sellers to come together.
Sellers can easily create FeetFinder profiles with as much or as little information about them as they wish. Buyers can message sellers, request custom content, or purchase pre-shot videos or photo albums.
FeetFinder is by far my favorite platform to sell feet pics online. I know that they are working to bring customers to the website while also keeping me safe from scams. They will routinely go through accounts and ban those who are trying to steal from sellers.
They also only take a small percentage of your sales and pay you directly through bank deposit.
Read Next: How Does FeetFinder Pay Sellers?
OnlyFans
OnlyFans isn't just for adult content creators; it's an excellent place for selling feet pics too. Here, you can build your fanbase and sell to dedicated followers.
The only downfall with OnlyFans is that you are in competition with other adult models showing more than just their feet. While there are plenty of successful women on this platform, it can be difficult to stand out when you're just selling feet pictures.
If you are comfortable selling content of more than just your feet, then I would recommend OnlyFans as an option. However, if you want to stay anonymous with this side hustle, then it may not be the best opportunity to earn a lot of money for you.
Stock Photo Sites
Stock photo sites are great for selling feet pics. Photographers and businesses often look for high-quality foot images for their projects.
Some women don't feel comfortable with the sexual nature of selling feet pictures, but that doesn't have to stop them from making money with this type of content!
Stock photo sites look for high-quality, well-edited feet pictures for others to use. These customers could be reputable marketing agencies, e-commerce stores, doctors, etc.
If you have a love for photography and great photo equipment, then this could be a better route for you to take if you aren't totally convinced as to why feet pictures are a thing for everyday foot fetishes.
Some of the most popular stock photo sites to sell content include:
Tinder
Yes, you can even sell feet pictures on Tinder! A somewhat unconventional choice, but hey, it's 2023, and we're all about making money moves. Just make sure you're upfront about your business to potential matches.
There are a few extra steps to setting up your feet pic-selling business on Tinder. You'll have to also create accounts where your customers can pay you for your photos. I suggest CashApp, especially if you want to remain anonymous.
Another thing you can do is lead your potential buyers from Tinder to FeetFinder. Simply share the link or your username, and they can find you on the platform and buy photos of your pretty feet. Ca-Ching!
Feetify
Feetify is another platform designed specifically for buying and selling feet pics. It has an active community and provides a secure transaction process.
However, it can be difficult to shine bright as a seller on the platform if you are just starting out. With a hierarchy of Premium Sellers, these foot models tend to get a better treatment and no commissions taken from their sales.
To get Premium status, you must pay $49 in cryptocurrency for just one year of access.
While Feetify is reliable, it can be a more difficult place to sell feet pics if you aren't as experienced with creating content or mastering foot poses.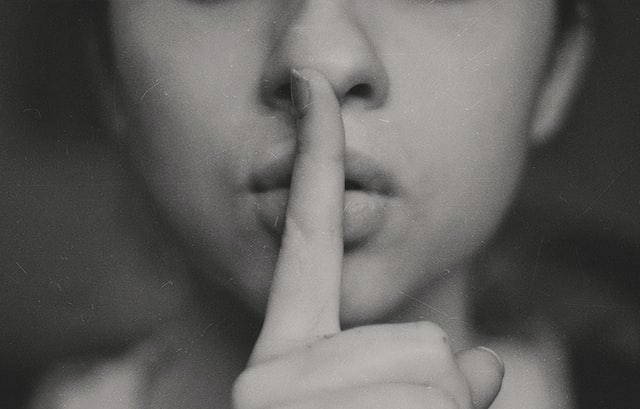 Do You Have to Show Your Face When Selling Feet Pics?
The best part about this gig is that you absolutely do not need to show your face when selling feet pics online. You can choose to stay completely anonymous. Just keep those toes well-manicured!
This is great for women who want to keep this part of their life separate from the rest. Your friends, family, or boss never need to know that you're selling feet pictures online. If it makes you money and makes you feel confident, then go for it!
No judgment here!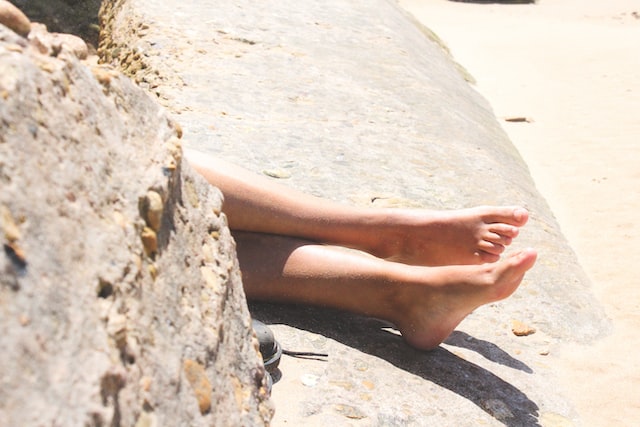 How to Get Started Selling Feet Pics Online
Starting your feet pic side hustle is as easy as snapping a selfie; only you're snapping your feet instead. Make sure they're looking their best, set up your accounts on one of the best places to sell feet pics, and start earning some money.
I started selling feet pictures without showing my face about a year ago and can't imagine stopping. I love the confidence it gives me, the creative outlet, and the extra income.
But believe me, I've made mistakes when I first started selling feet content. That's exactly why I created this blog – to help other women looking for some financial freedom achieve this dream while also having fun.
If you're completely new to FeetEmpire and selling feet pictures, then I definitely recommend downloading a free copy of my guide The Feet Pic Bible.
It has everything you need to get started, including step-by-step instructions on how to set up a FeetFinder profile and take your first photos.
Want your free copy? Send me an email requesting the The Feet Pic Bible, and I'll send it to you absolutely free!