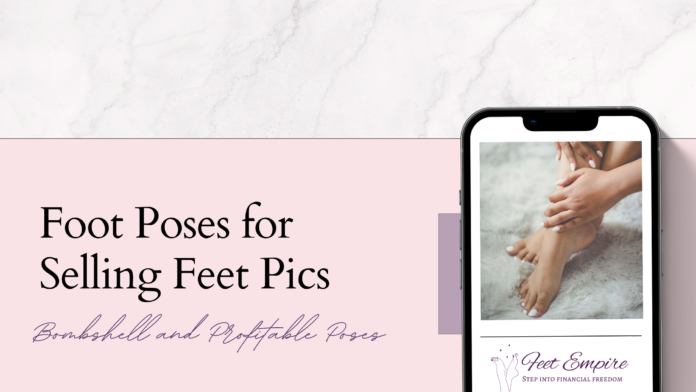 After weighing the pros and cons, you've decided to start selling feet pics online. Now comes the more challenging part – creating bombshell content. Finding the right foot poses for selling feet pics while still standing out from the crowd can be difficult at first.
With only so many foot poses to choose from, you may feel that you are taking the same photo again and again. Well, thanks to this article, you'll have even more content ideas, and foot poses for selling feet pics without showing your face.
I've been selling my feet pics online for the last year and have had so much fun creating content for my customers.
From trying different foot poses to getting fun accessories to taking custom orders, I'm here to tell you that no matter how many times you take the same photo with the same pose, it's going to be fun, sexy, and make you money!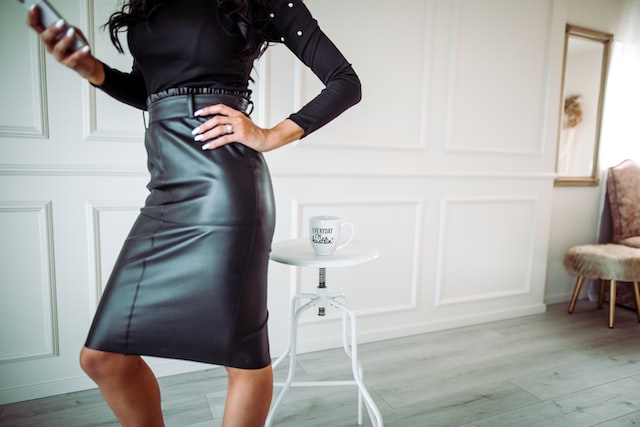 Why Women Sell Feet Pics Without Showing Their Faces
Selling feet pics without showing your face is a great way to protect your privacy while earning money from home. Many women feel comfortable selling feet pics this way because they can maintain their anonymity and still earn a substantial income.
Many women are simply looking to make a few extra hundred dollars a month to pay for their more luxurious habits, such as shopping or saving up for a vacation.
Creating a new persona and selling feet pics without showing your face will not only boost your confidence but can be an extremely lucrative opportunity.
Can You Make Money Selling Feet Pics?
Yes, you can definitely make money selling feet pics!
Depending on your level of commitment and dedication, you can earn thousands of dollars a month.
How Much Can You Make Selling Feet Pics?
The amount of money you can make selling feet pics varies based on several factors, such as your content quality, the frequency of your posts, and your marketing skills.
On average, you can sell a single foot picture for $5 to $10. However, you can charge more for professional-looking feet photos, though!
You can earn extra money by taking custom orders and charging more for them.
Read Next: How Much to Charge for Feet Pics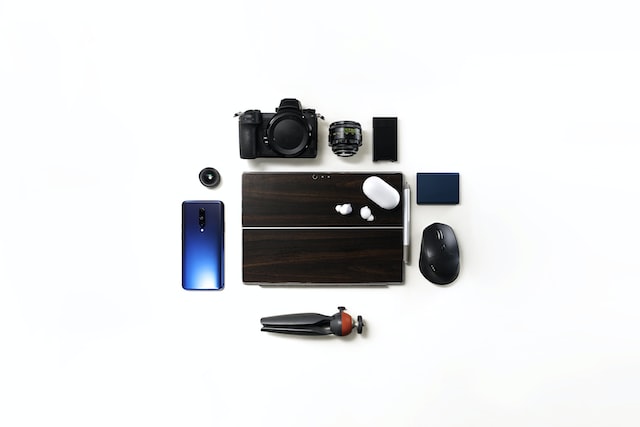 How to Create Profitable Feet Pic Content
Creating high-quality stellar content is essential for selling feet pics without showing your face. Since you are choosing not to show your face, your content has to stand out from other feet pic sellers who are using other body parts to their advantage, such as their pretty faces.
Below are some suggestions for how to create pretty feet pics and stand out from the competition.
High-Quality Photos and Videos
Make sure your photos and videos are of high quality and resolution. You don't need a fancy good camera to take feet pictures. You just need an iPhone with a great camera!
Make sure to change your picture settings to be high-quality and shoot in 4K video. Remember, you're creating content to sell. So, you'll want to make content worth buying!
Fix the Lighting Situation
Good lighting is key to getting great pictures. Natural light is the best, but if you're taking pictures inside, you may benefit from investing in a ring light.
Lighting is really everything when it comes to taking profitable photos!
You don't want your feet to be in shadows or under yellow artificial light. This takes away from the professional expectation of selling feet content.
Clean and Pretty Feet
Make sure your feet are clean, moisturized, and free from any blemishes. You can add lotion to your feet before the shoot to make them look extra soft and smooth.
While there are some customers who are willing to buy dirty or ugly feet pics, most of them will want clean, smooth, and beautiful feet.
Later in this article, I'll discuss how to prepare your feet to create stellar content.
Trendy and Niche Content
Research and incorporate the latest trends and niche content into your foot pics to keep them fresh and interesting. You can find which categories buyers are most likely to purchase on platforms like FeetFinder or through Instagram hashtags.
It's a good idea to avoid busy backgrounds to achieve good feet pictures to post on your social media platforms.
Lightly Edit
Lightly edit your foot pics, such as adjusting the brightness, contrast and some color correction, to make them more visually appealing. You can use photo editing apps like Lightroom.
You don't want your photos to look like they have been overedited, though. You'll want to pay attention to the light, such as removing dark shadows or darkening spots that are too bright or oversaturated.
Avoid using filters or presets. This can make your photos feel cheap and fake. Your buyers want to see your natural feet!
Mastering Foot Poses
To create profitable foot pictures, you'll have to master beautiful, unique, and interesting foot poses for selling feet pics. Don't worry; I've got a whole list of them next!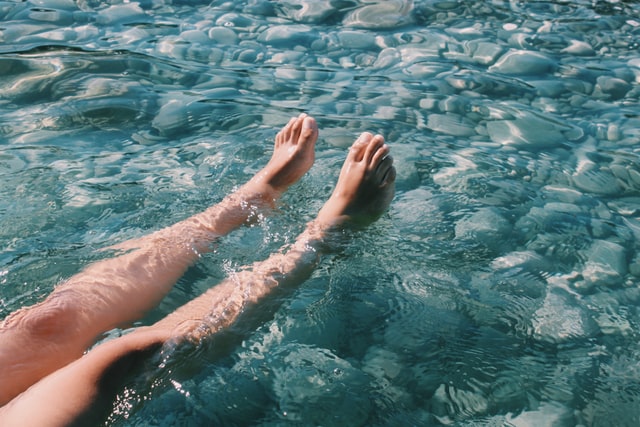 Bombshell Foot Poses for Selling Feet Pics Without Showing Your Face
When you decide not to show your face in your feet pictures, you must rely on mastering bombshell foot poses for selling feet pics.
While there are only a handful of foot poses to choose from, it's important to do them well and take beautiful photos to stand out from others on social media and feet pic platforms.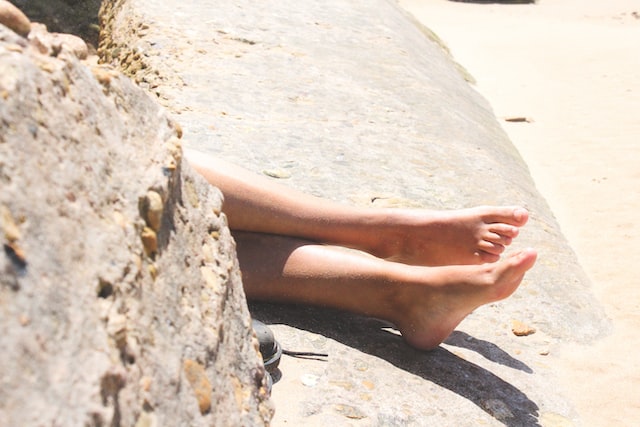 Arches
Showing off your foot arch is a classic foot pose, and it works great for good feet pics because they create an elegant and elongated look for your feet.
To do this pose, stand on your tiptoes and flex your feet, causing your arches to be more pronounced. You can also take the picture from a side angle to accentuate the curve of your arches.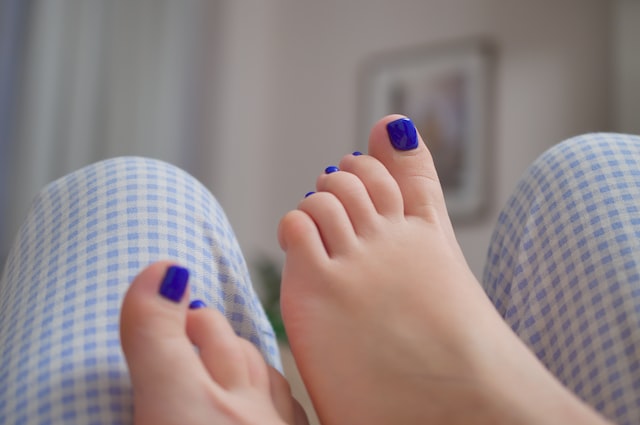 Painted Toes
Painted toes are a must-have for any foot picture. A splash of color on your toes can make your feet stand out and look even more attractive.
You can choose any color that complements your skin tone and outfit. Take a picture of your toes from different angles and show off your pedicure. You can do close-up angles, from above, or in front.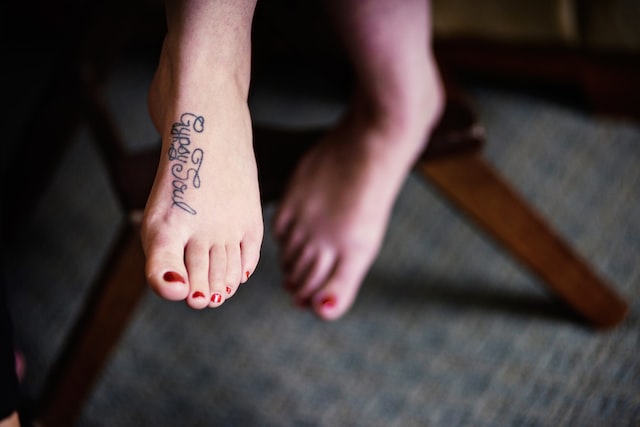 Top Angle
A top angle shot of your feet is another great way to capture the beauty of your feet without showing your face.
Simply place your feet in front of you and take the picture from above. This angle allows you to show off the shape of your toes, the smoothness of your skin, and the curve of your arches.
Experiment with different angles and find the one that works best for you.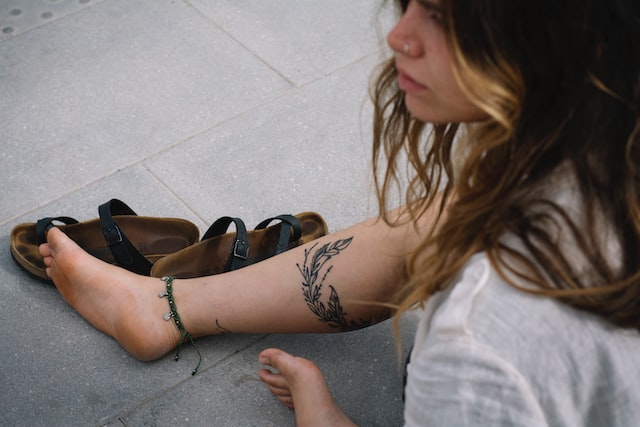 Bare Soles
If you have cute and smooth soles, this is the perfect pose for you.
Sit on the edge of a bed or couch with your legs crossed and your feet in the air. Make sure to point your toes and show off the soles of your feet.
This pose can be done with or without socks and looks great with a fun or colorful background.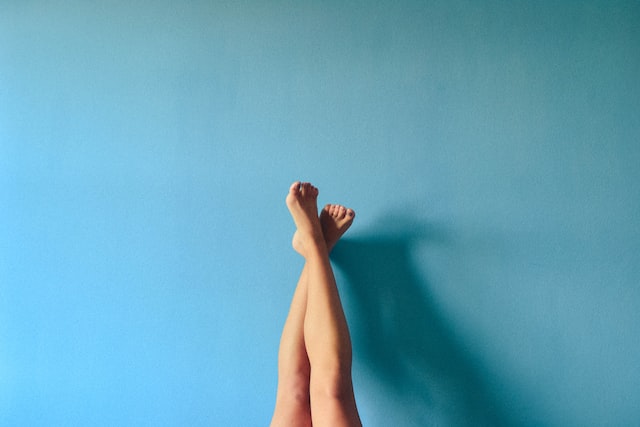 In the Air
For this pose, lay on your back or stomach and put your feet up in the air. You can rest your feet on a wall or prop them up with your hands.
This pose is great for showing off your toes and arches. Try different angles and positions to find the perfect shot.
You can also show off a little more of your body without showing your face. You can accentuate your legs and even a little bit of booty if you want.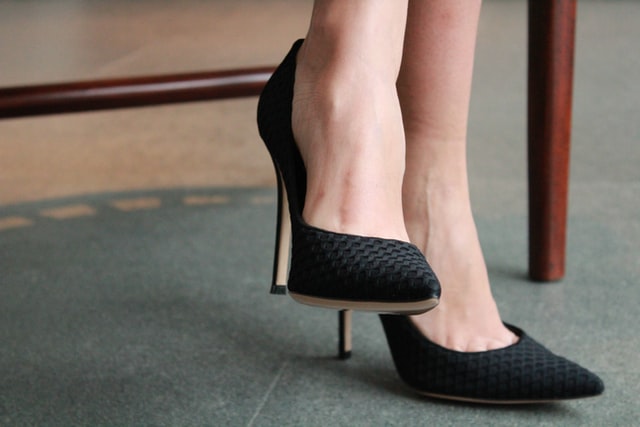 Styled High Heels
If you're a shoe lover, this foot pose for selling feet pics is perfect for you. Put on your favorite heels and take a picture of just your feet.
You can do this pose sitting down, standing up, or even walking. This pose is great for showing off your style and adding some variety to your social media feed.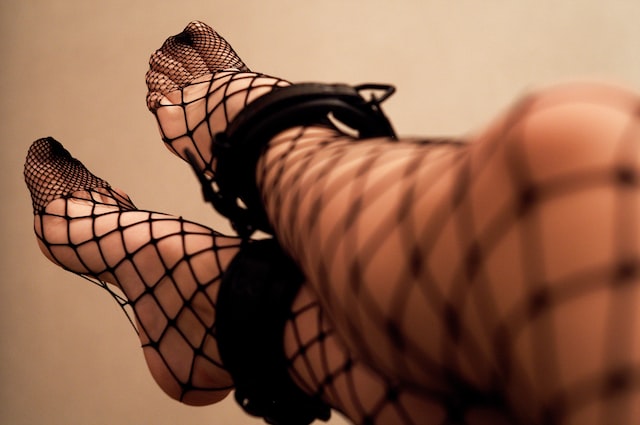 Fun Socks or Jewelry
As one of the most fun foot poses for selling feet pics, this pose is all about the accessories. Show off your fun socks or jewelry by taking a picture of just your feet. This pose can be done in any setting, and it's a great way to stand out from other people selling foot pictures online.
If your feet aren't in the greatest shape, then you can wear socks and still get some great content shooting feet with the right feet picture poses.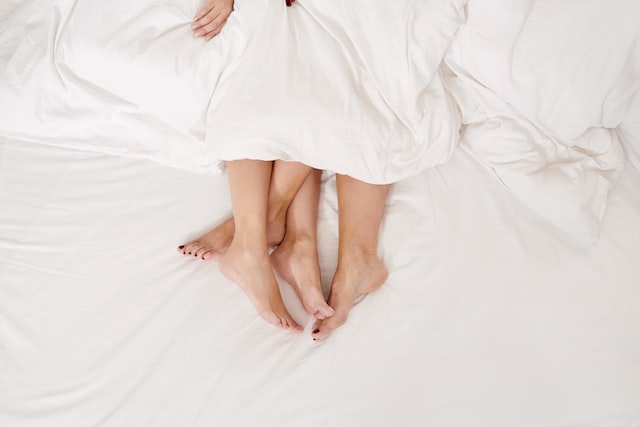 Sneak a Peak
This pose is all about leaving something to the imagination. Take a picture of just the tips of your toes peeking out from under a blanket or behind a curtain.
This pose is great for adding some mystery to your feed and keeping your followers intrigued.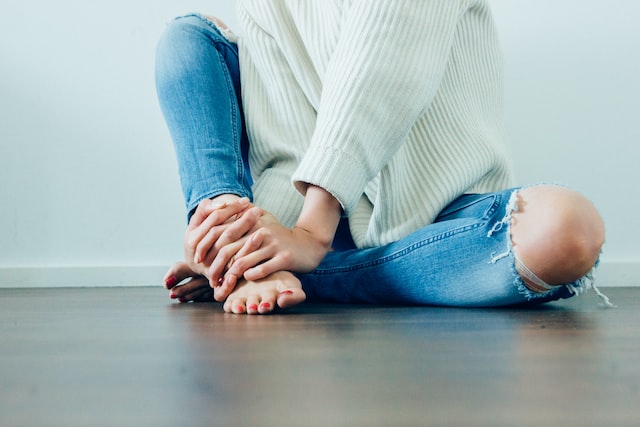 Hands and Feet
Get creative with this pose by incorporating your hands.
Take a picture of your feet with your hands framing them, holding them, or even painting your toes. This pose is great for showing off your nail art or jewelry.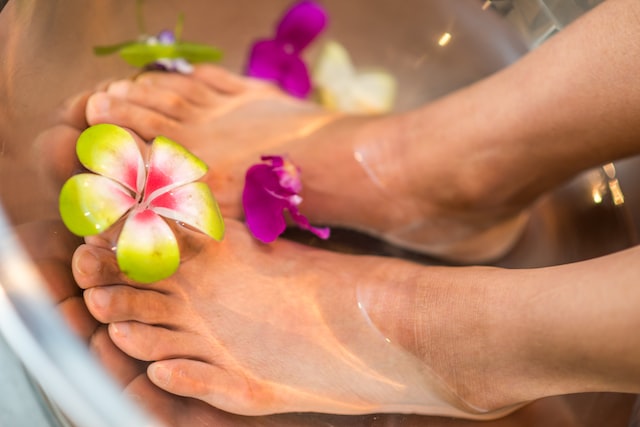 How to Prepare Your Feet for a Feet Photoshoot
Now that you have some foot poses for selling feet pics, it's important to make sure your feet are photo-ready. Here are some tips on how to prepare your feet for a photoshoot:
Exfoliate
Use a foot scrub to remove any dry or dead skin from your feet with a pumice stone or foot file. This will help your feet look smoother and healthier in photos.
Nightly Foot Cream
Moisturize your feet every night with a hydrating foot cream. This will keep your feet soft and smooth and prevent any dryness or cracking.
A feet lover who buys feet pics is looking for beautiful and smooth feet that are taken care of every day.
You can also do weekly foot masks to boost hydration in your feet even more.
Routine Pedicures
Keep your toes looking fresh with regular pedicures. This will help your nails stay healthy and prevent any ingrown toenails.
Plus, you'll always have beautifully painted toes with exciting colors. Your nail technician can also exfoliate and rub off any hard skin or callouses that can show up from walking.
Polished Toes
Add some color to your toes with a fresh coat of nail polish. This will make your feet stand out in photos and give them a clean look.
It also shows your customers that you take good care of your feet and care about those money-makers.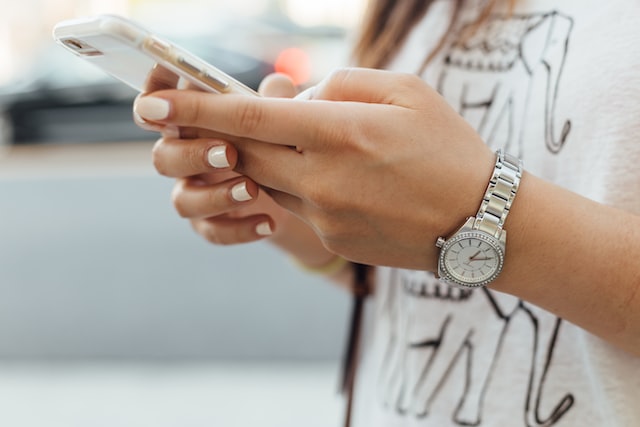 Where to Sell Feet Pics
There are many platforms where you can sell feet pics online. Below are just some of my favorites.
FeetFinder: a website specifically for buying and selling feet pics
OnlyFans: a subscription-based platform where you can sell exclusive content
Instagram: use hashtags and reach out to potential clients
Tinder: swipe right on potential clients and negotiate prices
Stock photo sites: sell quality feet pictures as stock photos for businesses and publications as a professional foot model
Read Next: How to Sell Feet Pics on Instagram
Earn $2k per Week with The Feet Pic Bible
Are you ready to sell feet pictures online and earn hundreds and even thousands of dollars every month? Start practicing your foot poses for selling feet pics today to get started.
You also need to read my guide, The Feet Pic Bible, full of my tips and tricks from firsthand experience selling feet pictures for the last year.
You'll learn how to set up your accounts, stay safe while selling feet pics, and engage with customers.
Just DM me on Instagram (feetempire.online) requesting you free copy of the guide and I'll send over the PDF 🙂
Now, go grab your phone, and your lights, and get ready to take some awesome foot pictures to sell!