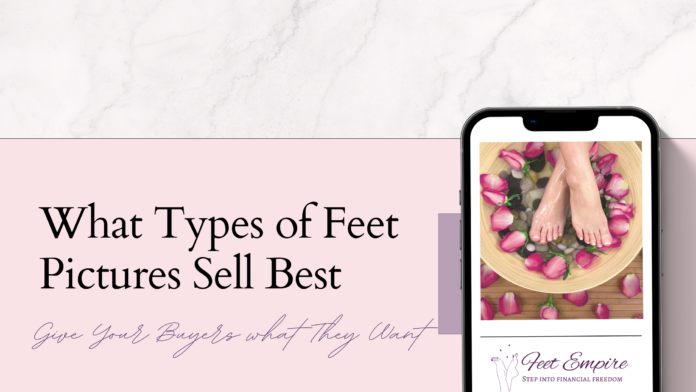 As an empowered woman who has decided to sell feet pics online without showing her face, you may be wondering what types of feet pictures sell best online.
I've got you covered!
After over a year of selling feet pics online, I've learned the ins and outs of how to make this side hustle super lucrative – and I'm here to share it all with you!
From how to take care of your feet to feet poses to figuring out the types of feet pictures that sell best online, FeetEmpire is here to guide you through your journey to making thousands of dollars per month. With my tips to sell feet pics online, you'll go from rags to riches in no time! 
Below are the most popular feet pictures that sell in top trending categories on feet marketplace platforms and social media.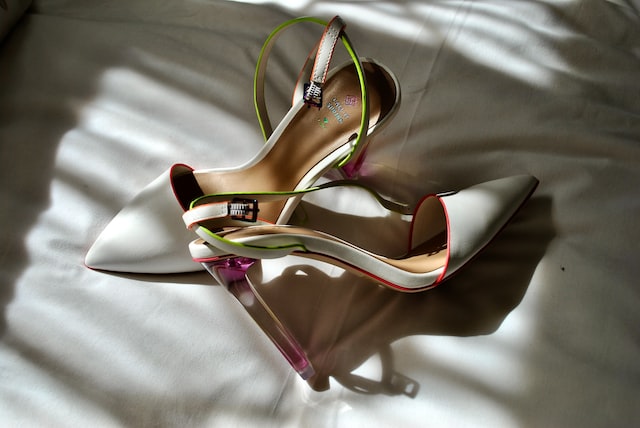 Heels: Stilettos, Wedges, and Everything in Between
Break out your favorite pair of heels and set up your tripod. One of the most requested types of feet pictures that sell best is actually of your shoes.
This is actually the perfect if you haven't kept up to date with your foot care routines and need to hide some chipped polish on your toes.
Some feet lovers may actually request a certain type of shoe used for in the feet pic.
Choosing the Right Pair for Your Photos
To make your feet look absolutely stunning, pick a pair of heels that complement your skin tone and fit comfortably.
Don't forget to consider different heel heights, styles, and colors to create a variety of looks!
Posing Ideas for Showing Off Those Gorgeous Heels
Experiment with different angles and poses to show off your heels.
Get creative with your shots: try close-ups, full-body poses, or even just focusing on your feet as the star of the show!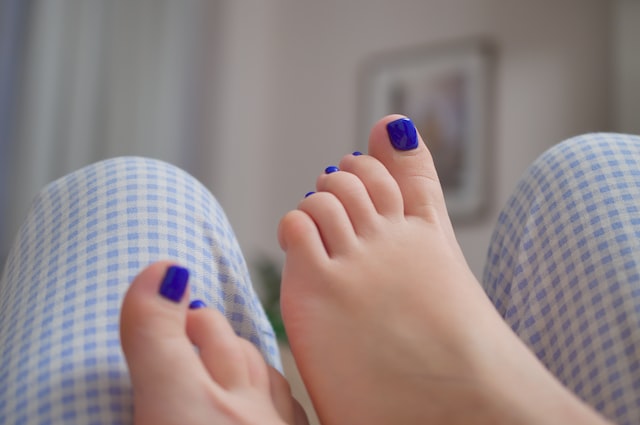 Painted Toes: Colorful, Fun, and Fabulous
One of the most exciting things about taking photos to sell feet pics is the variety of nail polish colors you can choose from. You finally have an excuse to change your nail polish color twice a week so you can create more content!
Many people buy feet pics based on the color of the toenail polish. You may even have buyers placing custom orders and requesting specific colors on your toes.
Nail Polish Trends and Color Combinations
Stay up-to-date with the latest nail polish trends and color combinations to keep your feet looking fresh and stylish. Don't be afraid to mix and match colors or play with different nail art designs!
Close-up Shots and Angles to Capture the Perfect Painted Toes Pic
Capture the beauty of your painted toes with close-up shots that focus on the details. Play with different angles and lighting to make your colorful toes pop.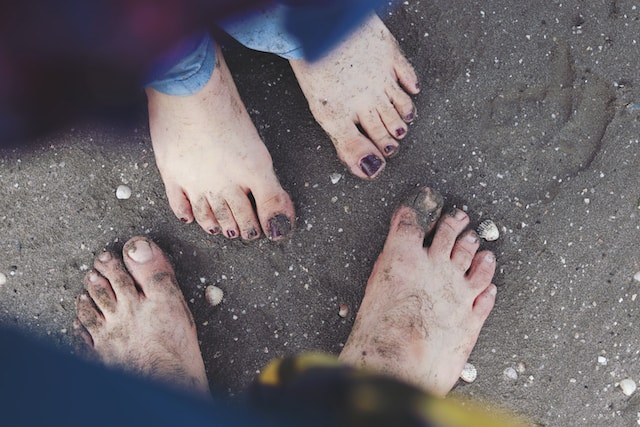 Dirty Feet: A Little Grime for a Whole Lot of Charm
Not every foot lover wants to look at perfectly polished feet. Some buyers want to see your dirty piggies covered in dirt after a day of walking around the city in the summer wearing sandals.
They may even want it a bit messier with actual mud, sand, or grass. It's true; beauty is in the eye of the beholder. Don't underestimate the power of ugly feet pictures.
How to Create a Natural and Appealing Dirty Feet Look
For a more natural, earthy vibe, try taking pictures with slightly dirty feet. This can be achieved by walking on grass, mud, or even just applying a little makeup to create a realistic look.
This can be quite a fun activity as you get to release some creativity and artistic talent while preparing for your photo shoot.
Settings and Scenarios to Make Dirty Feet Pictures Stand Out
Choose outdoor settings or create a scene that tells a story to make your dirty feet pictures stand out. This could include gardening, hiking, or any other fun and adventurous activities.
You can also increase your productivity while running your feet pic selling online business and shoot two birds with one stone. If one day your friend invites you out on a hike, make sure to plan to take feet pics afterward! So, you have a fun day with friends and viewing nature and get to make money from the result on your feet.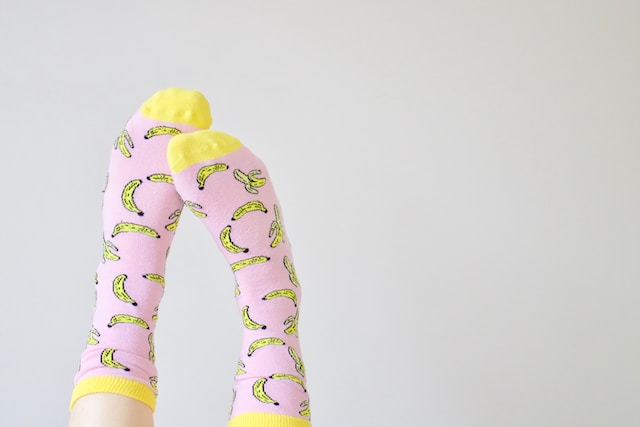 Socks: Cozy, Cute, and Oh-So-Comfy
Not all types of feet pictures that sell best are bare feet. Some buyers want to see your beautiful feet in cozy socks.
Your buyer may even request a theme or type of sock that you wear in your photo if taking custom orders.
Best Sock Styles and Materials for Feet Pictures
Experiment with various sock styles, patterns, and materials to create unique and cozy feet pictures. Look for knee-high socks, ankle socks, or even fuzzy socks to showcase your feet in a warm and comfy way.
Creating Fun Sock-Themed Photo Shoots
Create themed photo sets with your socks, such as holiday-inspired sets or matching your socks with your outfit. Get creative and have fun with it!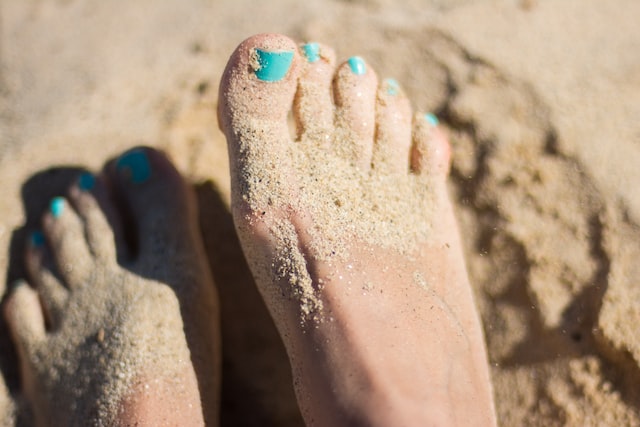 Feet in the Sand: Beach Vibes and Ocean Dreams
Who knew that you could earn hundreds of dollars while spending the day on the beach? Women who sell feet pics online do!
As you soak in the sun and dip your toes in the sand, make sure to spend some time taking great photos in that beautiful natural light. Sandy feet at the beach with your toes spread are one of the best types of feet pictures that sell.
Tips for Taking the Perfect Sandy Feet Picture
Capture the essence of a relaxing beach day with feet pictures in the sand. Make sure to remove any distractions from the background and focus on your feet, the sand, and the water.
To keep your photo-taking activities discreet, take them while sitting on a chair and make it look like you're simply scrolling on your phone.
Adding Props and Accessories for a Beachy Touch
Incorporate beachy props and accessories like sunglasses, sun hats, sea shells, or even a cocktail to give your feet pictures that perfect summer vibe!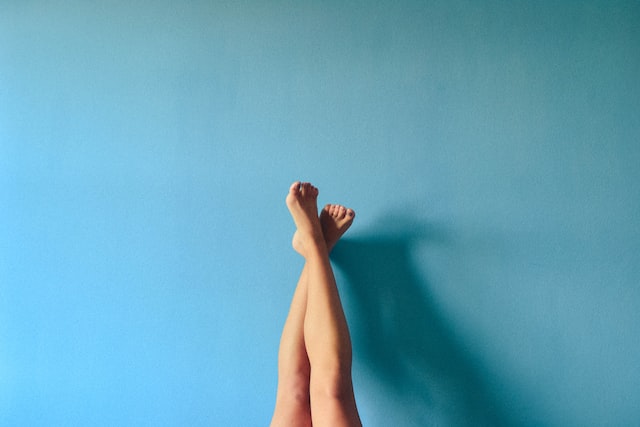 Barefoot and Natural: The Simple Beauty of Bare Feet
Simple may be best when it comes to types of feet pictures that sell online. With some decent lighting, a good camera, and pretty feet poses.
If you want to take barefoot photos, then it's important that you take good care of your feet. Most buyers who want to see bare feet and soles will want clean, soft, and polished looks.
Tips for Foot Care and Maintenance
Keep your feet well-groomed and moisturized for stunning barefoot pictures. Regular pedicures, exfoliation, hydration, and a foot file are key to maintaining healthy-looking feet.
Posing Ideas for Natural and Elegant Barefoot Shots
Experiment with different poses to show off the natural beauty of your bare feet. Try sitting, standing, or even walking shots to create a variety of elegant and captivating images.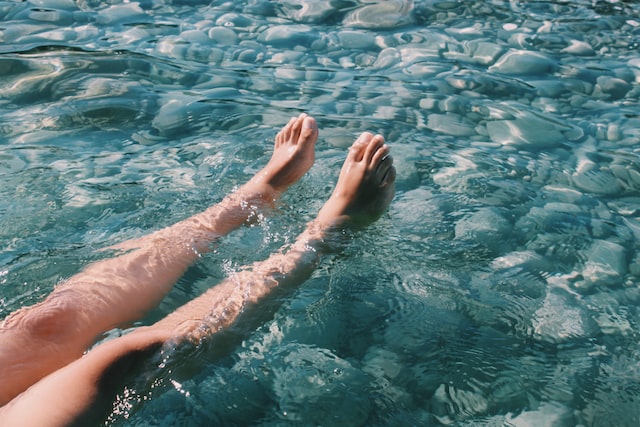 Wet Feet: Making a Splash with Water-Themed Pics
Wet feet that are glistening and glossy make excellent types of feet pictures that sell best online.
If you don't want to use water to get that shiny effect, you can also use oils for a clean and reflective effect.
Setting ideas for water-based feet pictures
For some refreshing and unique feet pictures, try incorporating water into your shots. Pools, fountains, or even just a small basin of water can create the perfect setting for stunning wet feet photos.
You can also catch a shot of you stepping out of the shower for more indulging and sexy atmosphere.
Techniques to Capture the Perfect Wet Feet Look
Capture the glistening beauty of wet feet by playing with different lighting and angles. Experiment with water droplets, splashes, and reflections to make your wet feet pictures truly stand out.
For these types of feet pictures, a ring light may be helpful to get the perfect lighting situation with the droplets.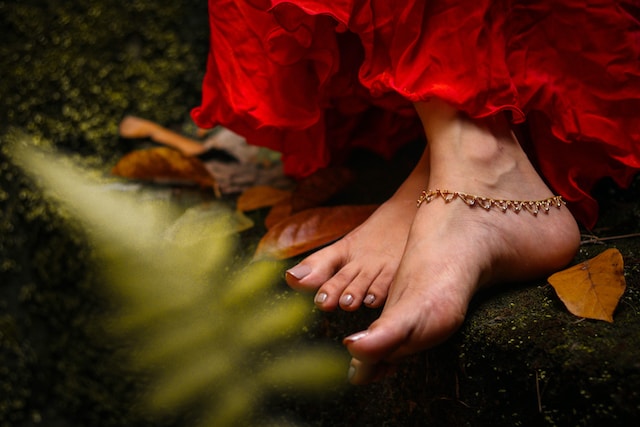 Foot Jewelry: Adding a Touch of Sparkle and Glamour
Foot jewelry is a fabulous way to add some extra sparkle and glamour to your feet pictures. These delicate and beautiful adornments can transform your feet into a stunning focal point that's sure to captivate your audience.
Popular Foot Jewelry Styles and How to Wear Them
Foot jewelry, such as anklets and toe rings, can add a touch of glamour and sparkle to your feet pictures. Choose pieces that complement your feet and don't overpower the overall look.
You can even charge more when selling feet pictures like this because you have to account for the price of the jewelry.
Tips for Photographing Your Feet with Jewelry
Capture the shimmer and shine of your foot jewelry with close-up shots and different angles. Consider using soft lighting to create a dreamy and elegant atmosphere.
You can also edit your photos lightly in Lightroom or Instagram to make certain colors stand out.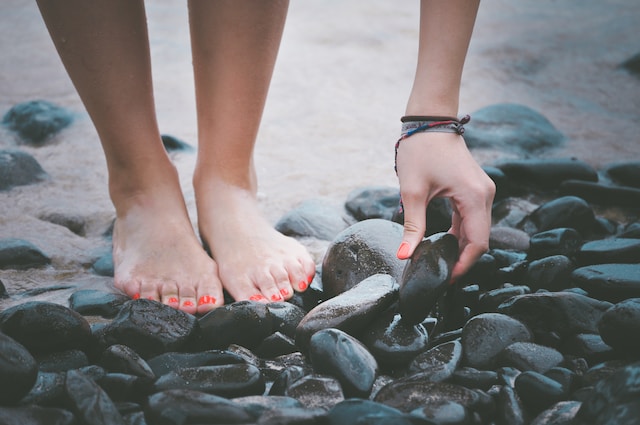 Feet with a View: Scenic Backdrops for Stunning Pics
Are you an avid traveler and want to make money to support your trips? Then use those beautiful backdrops you see while gallivanting across the country for your feet pics!
How to Choose the Perfect Location for Your Feet Pictures
Take advantage of beautiful natural or urban landscapes to create breathtaking feet pictures. Choose a location that complements your feet and doesn't distract from the main focus.
Balancing the Focus Between Feet and Scenery
When photographing your feet with a scenic backdrop, make sure to balance the focus between your feet and the scenery. Play with depth of field and positioning to create a harmonious composition.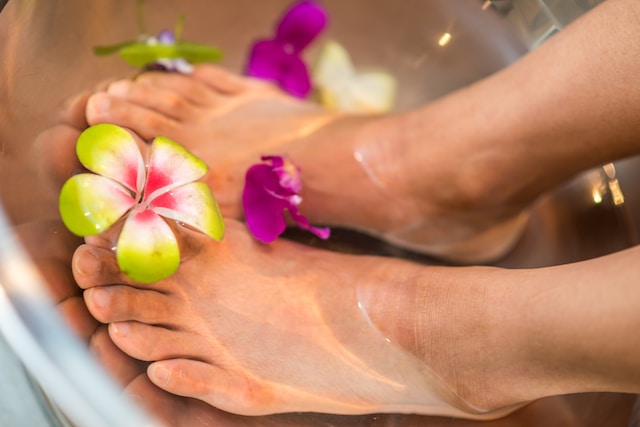 Foot Massage and Self-Care: Pampering Your Feet for the Camera
While you're taking care of your feet through pedicures, moisturizing masks, or painting your toes, document the process and sell those pictures online.
Not only are you preparing your feet for beautiful content, you're also creating content for another category of foot lovers.
How to Set up a Relaxing Foot Massage Scene
Create a cozy and inviting foot massage scene by using plush towels, aromatic oils, and candles. Make sure the setting feels inviting and comfortable, inviting viewers to imagine themselves in your shoes.
Capturing the Essence of Self-Care in Your Photos
Show off your pampered feet in various stages of the massage process, capturing the essence of self-care and relaxation. Don't forget to include close-up shots of your freshly massaged and moisturized feet!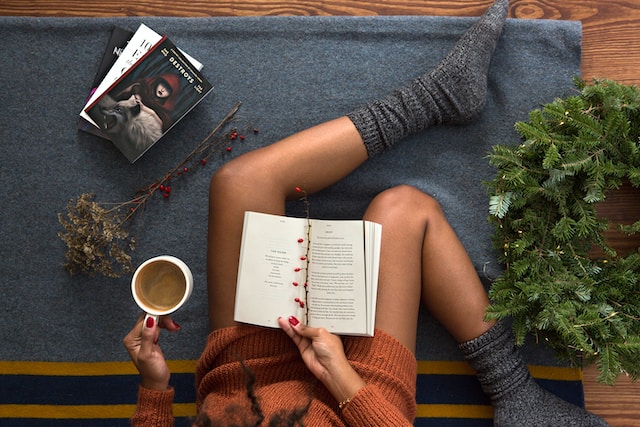 Seasonal Feet: Celebrating Holidays and Seasons with Your Feet
The holidays are the perfect opportunity to create fun types of feet pics throughout the year.
Holidays such as Valentine's Day, Christmas, St. Patrick's Day, Fourth of July, and Halloween all come with fun socks, jewelry, temporary tattoos, and decorations that you can use to set up an adorable and sexy feet pic shoot.
Ideas for Creating Festive Feet Pictures
Celebrate holidays and seasons with themed feet pictures! Incorporate seasonal props, accessories, and color schemes to create festive and fun images. These types of feet pictures that sell best during the most commercialized and celebrated holidays and you could see an increase in your income!
Incorporating Seasonal Props and Accessories
Get creative with seasonal props like holiday ornaments, autumn leaves, or even snow to give your feet pictures that extra touch of seasonal charm.
Start Making Money from the Types of Feet Pictures That Sell Best Online
There you have it, babe! These types of feet pictures are sure to help you create a stunning portfolio and make the most out of your side hustle.
Remember, the key to success is to get creative, have fun, and always stay true to your unique style.
If you're new to selling feet pics online, then you don't want to miss my free PDF guide, The Feet Pic Bible: How to Earn $2K per Week Without Showing Your Face for tips and tricks to get started.
DM me on Instagram (feetempire.online) to get your free copy today!
So go out there, snap some amazing pics, and embrace the financial freedom this side hustle can bring!