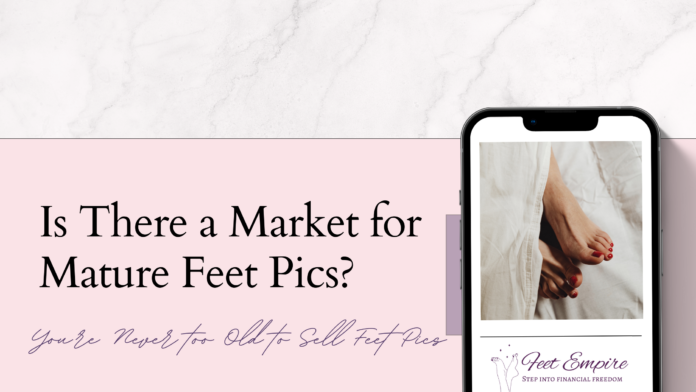 You are never too old to sell feet pics online without showing your face. In fact, there is an entire category for older women who sell feet pics – mature feet pics. 
That's right! You can be in your 50s, 60s, or even 70s and unlock financial freedom by selling mature feet pics.
Feeling good after a relaxing and rejuvenating pedicure? Snap a few photos with your iPhone and post them to Feetify or FeetFinder under the mature feet pics category and wait for feet lovers to purchase! 
You can even go pro and become a foot model for marketing agencies or stock photo sites. I'll get into more details later on, though.
By the end of this article, I promise that you'll feel empowered to earn an extra $500 per month by selling mature feet pics, top-selling feet pics, and who you can expect to buy your content.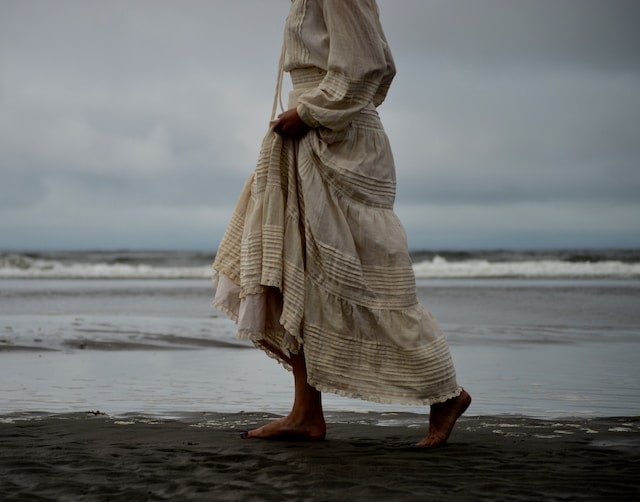 Is There a Market for Mature Feet Pics?
You may be surprised to learn that there is a market for mature feet pics.
Let's face it; you are probably surprised about why feet pics are a thing people are willing to spend good hard-earned money on. 
Whether you want to sell to feet lovers or professional organizations, there is definitely a market with demand for mature feet pics.
Who Can Sell Mature Feet Pics?
Those of us beyond our 30s may find ourselves with feet that have seen more than a few miles, possessing characteristics. Those of us in our 40s or 50s may label our feet has "mature."
Mature feet may include hallmarks such as bunions, wrinkles, calluses, and curled toes, which seem less than camera ready, but fear not! Interestingly, these features can tap into a certain niche market with buyers fascinated by these unique qualities.
Your well-worn, 'ugly' feet could graduate from shunned to sought-after with the right audience. Remember, sometimes the eccentricities you're self-conscious about could be your golden ticket!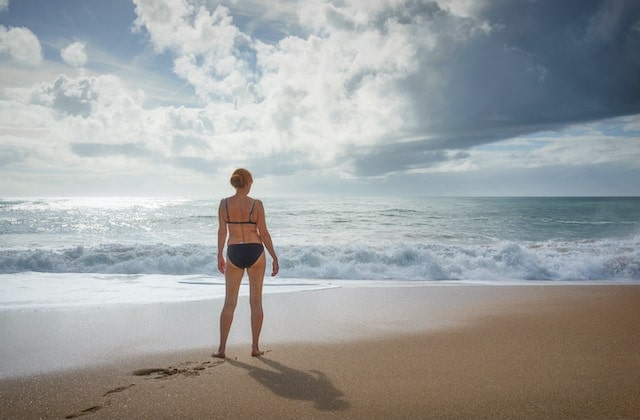 What Types of Mature Feet Pics Sell Best?
If you're interested in selling your mature feet pics, you'll want to choose a niche or two for your content. Below are the top selling mature feet pic categories to explore.
MILF
Picture this, a provocative pair of mature feet donning stiletto heels – there's an undeniable allure to it, isn't there?
Or perhaps, a tasteful image showcasing a mature foot model wearing elegant nylon stockings, her arch captured perfectly, teasing ambiguity, striking poses without revealing your face. Imagine the compelling allure of a perfectly pedicured foot, posed expertly, embodying confidence and mystique. 
From playful poses to sultry silhouettes, these elements can transform an everyday image into something exquisite. Recall that what makes these visuals striking isn't explicit exposure, but the suggestive prowess they emanate.
Remember, your hands — pardon me, I mean feet — hold the power to intrigue and captivate!
Ugly Feet Pics
Let's chat about the demand for 'ugly' feet pics, a niche that's surprisingly popular! Now, when I say 'ugly', I'm referring to photos showcasing feet with bunions, cracked heels, or calluses.
It may sound odd, but remember, beauty lies in the eye of the beholder, right? So, brace yourselves — this unconventional aspect of the feet pic market is quite lucrative.
Each bunion, every crack or callus, tells a unique story that piques the interest of certain buyers. So, if you've been worried about the state of your feet, here's your silver lining: they might just be your ticket to financial freedom!
Toenail Polish
Ever considered how a splash of nail polish color can transform your mature feet into a tantalizing visual treat? Oh yes, it's entirely possible, ladies! 
Take red, for instance. This fiery, passionate shade is universally appealing and could intrigue potential buyers to your cause.
Imagine your feet, adorned with glossy red polish that catches the light and commands attention. Even if your feet show signs of age – guess what? That vibrant hue of red could flip the script, adding a captivating allure that screams 'confidence' and 'fierce elegance.'
Remember, feet lovers are not just buying a picture, they're investing in a story, a mood – your unique, mature charm.
How to Take Sexy Mature Feet Pics
If you want to start selling mature feet pics, it's important to take care of them. Make sure to use moisturizing foot creams daily to keep the skin soft. Every week, you'll also want to exfoliate to remove dead skin and keep your feet smooth and fresh. 
You may also want to invest your time in giving yourself a DIY pedicure at home. You can save money while also pampering your mature feet. 
You can prepare your feet all you want, though. The important part of selling mature feet pics is learning how to take sexy feet pics that your clients will want to buy.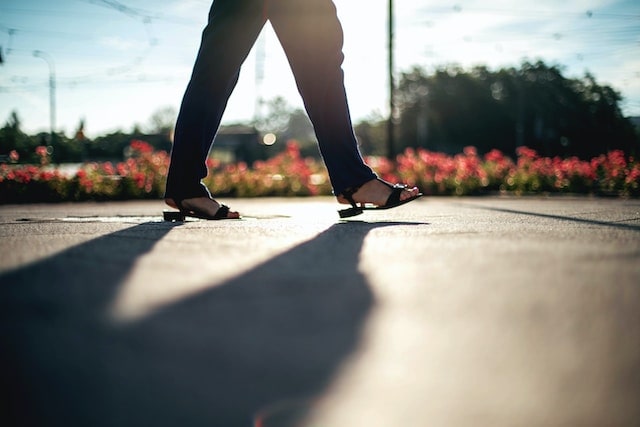 Who Buys Mature Feet Pics?
You may be wondering who is interested in buying mature feet pics? You'll be surprised at just how many people are willing to purchase this type of content and for various reasons.
Feet Lovers
There's a captivating niche for those who adore mature feet, often found within the foot fetish community. They appreciate the allure of age-experienced feet, seeking to purchase tantalizing photos on platforms like FeetFinder, Craigslist, and Feetify.
It's all about the allure of the mature aesthetic, marked by years of experience and character. Eager enthusiasts willingly spend their money to acquire these exclusive images, capturing their unique charm and undeniable appeal.
It might be mildly bewildering to some of us, but to these affectionate fans, these mature feet pictures hold an unspoken beauty.
Stock Photo Sites
Stock photo sites – we're talking giants like Shutterstock and Unsplash – form another avenue where mature feet pics can be sold or purchased.
These platforms cater to a wide audience, specifically content creators, who need unique images for their blogs, websites, or digital campaigns. Having your foot photos snapped up by these sites presents an indirect route to financial freedom as they often need a large library of diverse pictures, leading to a ready and open marketplace.
Plus, your privacy is typically ensured, a win-win for sellers like us who want to maintain a healthy balance between profit and personal security.
Marketing Agencies
Believe it or not, marketing agencies can be some of your top buyers. Specifically, agencies that are charged with promoting foot care products, orthopedic services, or even trendy footwear catered to the mature demographic.
High resolution, professional mature feet pics are used to create relatable ads and campaigns. From the agency's perspective, buying these pics directly from foot models is cost-effective and efficient.
Unique, eye-catching images are worth their weight in gold when it comes to capturing consumers' attention. So, if you've got a pair of mature feet that photograph well, then you might find marketing agencies knocking on your digital door.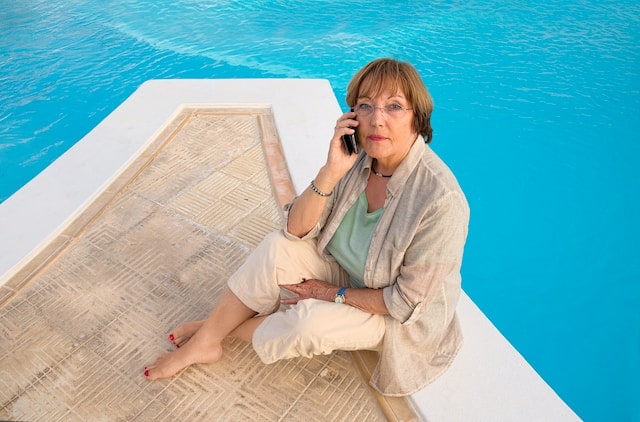 How Old Do You Have to Be to Sell Feet Pics?
While we're talking about selling mature feet pics, there is a specific age you must be in order to legally sell feet pics. In most states, the legal age to sell feet pics is 18 years old. 
Now, remember, you can never be too old to sell feet pics, especially with the mature feet pic category. As long as you are older than 18, then you're good to go!
How Much Can You Make Selling Mature Feet Pics?
The average price for a foot pic is between $5 and $20, depending on the content. It's up to you to price your pictures and videos to meet your buyers' expectations. 
When you really work hard to take good feet pics, promote yourself, and build a client base, then youc an easily earn an extra $500 per month selling mature feet pics.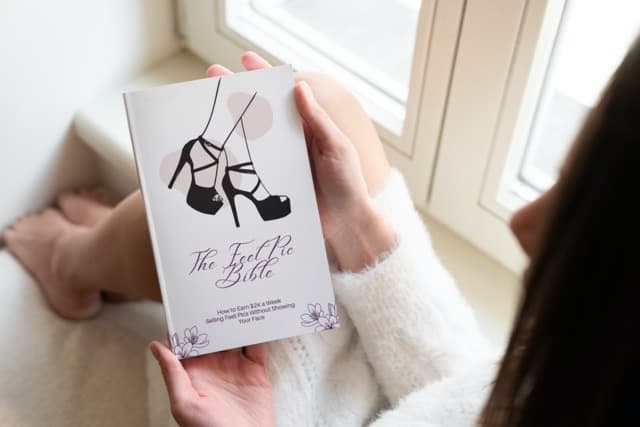 Start Earning $200 per Week with Mature Feet Pics
Now that we've embarked on this intriguing journey together, I urge you all fabulous women out there to seize this opportunity. Just by selling your mature feet pics, you could be earning a whopping $200 per week!
Ready to get started? Join my newsletter and a whole community of empowered foot models. As a thank you, receive an absolute freebie – my ebook, The Feet Pic Bible, a complete guide to get you started on this terrific adventure, full of practical tips and in-depth knowledge.