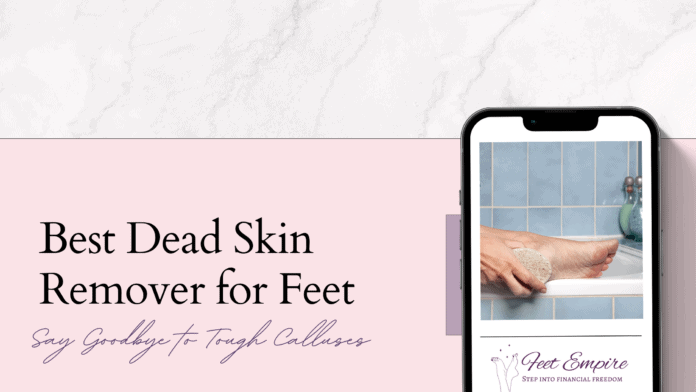 This post contains affiliate links where I may earn a commission at no cost to you.
There's no need to be embarrassed by the calluses or dead skin on your feet. Our feet are truly incredible, carrying us around all day long to work, to the bars in heels, and on European vacations. After all of that walking, though, you may need to invest in the best skin remover for feet to get those pretty toes back to being soft and smooth.
For women who use their feet to earn some extra cash online, keeping your feet in picture-perfect condition is essential. Unfortunately, hard calluses or rough skin can affect your side hustle's income.
To make sure that your feet are always smooth and ready for their foot modeling moment, I recommend using some of the best skin remover for feet products and methods.
Take it from me; I've struggled with having calluses all my life because of how I walk. I've tried everything under the sun and have finally found products worth talking about!
In this blog post, I'm diving into the top-selling and recommended products by women worldwide that effectively remove dead skin and tough calluses.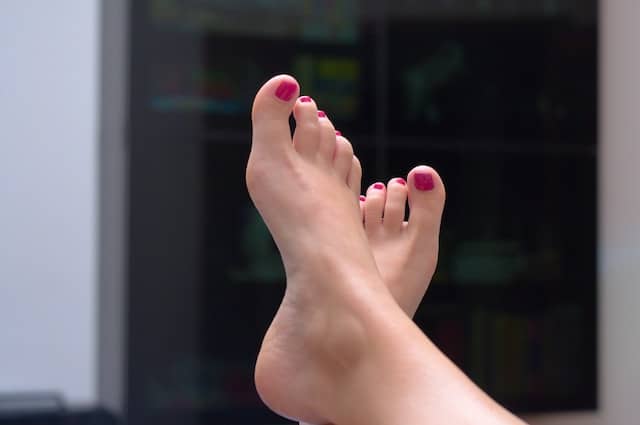 Why Do We Have Dead Skin and Calluses on Our Feet?
Before getting to the best dead skin remover for feet, let's first understand why we get dead skin and calluses on our feet.
Most of the time, calluses are caused by our skin constantly rubbing against our socks or shoes as we walk. To protect the foot and bones, a hard callus can form from this friction and pressure.
You may also have experienced dry and dead skin on your feet, especially during the winter. This is caused by a lack of moisture in the skin. Oftentimes, it's due to low humidity and dry air, and sweating in your socks and shoes throughout the day.
It's completely normal to have calluses and dead skin on your feet. You just have to know about the best dead skin remover for feet to take care of them properly!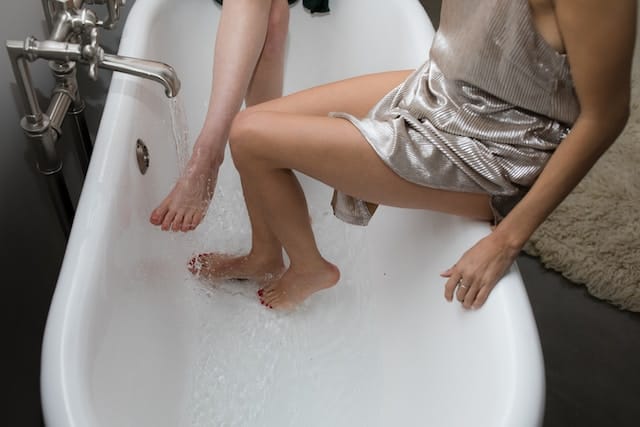 Best Dead Skin Remover for Feet Methods & Products
Trying different methods and products to remove dead skin and calluses from your feet can be frustrating and expensive. The last thing you want to do is spend your hard-earned money on a product that isn't as effective as the advertising promised.
Below are tried and proven methods with the best dead skin remover for feet products to try and get your feet silky smooth.
Pumice Stones
You've probably seen a pumice stone in your mother's bathroom growing up. This traditional callus remover method has been effective for decades.
A pumice stone comes from cooled lava that has spewed from an erupting volcano. So, it's completely natural!
Simply rub the pumice stone on a clean and dry callus to gradually shave it down to reveal the soft skin beneath. It's easy, cheap, and effective!
While you can get pumice stones that actually look like gray stones, I prefer ones that are a bit more modern looking, like this pack of three blue square pumice stones.
My Recommendation: Pack of 3 Pumice Stones
Exfoliating Peels
One of the most effective and satisfying best skin remover for feet is an exfoliating foot peel. While the process can take a couple of weeks, you'll love the satisfaction of seeing the dead skin and calluses peel right off without any effort.
It's super simple to use, too!
The exfoliator comes in a plastic booty, which you'll wrap around your foot and leave on for 30 minutes to an hour. Make sure to soak your feet for 30 minutes before applying the exfoliator for the best results.
Then, simply wait about a week for the dead skin to start peeling off.
My Recommendation: Baby Foot Lavender-Scented Exfoliating Foot Peel
Paraffin Wax
Bring the spa home with you with paraffin wax skin hydration and smoothing. While paraffin wax may not be a callus remover directly, it works to remove dead skin and provide hydration through your pores. It's a traditional method that has been around for decades.
The colorless and fragrant-less wax melts in an electric melting pot. You'll dip your feet into the wax and let it cool, hardening on your skin. Place a protective bag around your feet and leave the wax on for around 20 minutes before peeling it off.
There are many benefits aside from having smooth skin. You may also notice that it relieves pain in your joints.
My Recommendation: Ejiubas Paraffin Wax Kit for Hands and Feet
Epsom Salt Bath
You can't go wrong with a callus remover method that has been around for decades. Soaking your feet in an Epsom salt bath will not only moisturize your feet, but help them soak in necessary minerals and ingredients, like magnesium, to soothe aches and pain.
The Epsom salt's compounds act as an exfoliant and work to remove dead skin and soften hard calluses. It's best to soak your feet in warm water and a tablespoon of Epsom salt for around 20 minutes and use an exfoliator tool, such as a foot file to directly remove tough calluses.
This type of salt foot soak is ideal for sensitive skin on the feet.
My Recommendation: Dr. Teal's Pure Epsom Salt
Metal Foot Files
The best and most effective callus removers on the market are foot files. While they may remind you of a cheese grater, these stainless steel files are the fastest way to remove calluses.
It may require some elbow grease and an uncomfortable, hunched-over position to reach your feet, but foot files are a tried and true method to remove calluses.
There are two types of files you can use to remove hard foot callus. You can choose the traditional metal grater with a handle or an electric callus file that has a motor and sandpaper material to file down the skin. I'll get into the electric file next.
I personally prefer the metal grater file as I find that it's faster and often more effective. However, using the electric file afterward to make the skin smoother and more even is definitely helpful.
My Recommendation: Colossal Foot Rasp Foot File
Electric Foot File
For those women who don't want to uncomfortable task of manually removing calluses on their feet, there is the convenient electric callus remover foot file.
With a flip of the switch, you can actively file your hard dead skin down in just a few minutes. Many electric foot files come with speed settings and different file papers with extra coarse files.
They are safe to use and often come with a pressure setting that, if you push on the skin too hard, will automatically turn off to protect your skin.
Electric foot files are great for more than callus removal, though. They are perfect for cracked heels that need to be smoothed out and the top layer of dead skin removed.
My Recommendation: Rechargeable Electric Feet Callus Remover
Vinegar Soak
The beauty of vinegar is unprecedented! There are so many useful benefits distilled vinegar has in our health and homes.
A 20-minute vinegar foot soak is perfect for softening skin. Simply add a cup of distilled white vinegar to warm water and relax while it works wonders on the dry, dead skin on your feet.
Want to level up your at-home foot spa? Try adding vinegar to an electric foot bath for a more luxurious experience.
My Recommendation: Foot Spa Bath Massager
Heavy Duty Foot Creams
For intense dry skin on your feet, sometimes the best foot treatment is a heavy-duty hydrating foot cream.
Even after using the methods above to actively remove calluses and dead skin cells, it's important to rehydrate your feet to prevent those calluses from returning.
Choosing a foot cream with urea, salicylic acid, and cocoa butter will transform your dry skin to soft, healthy-looking feet.
Read Next: Best Foot Cream for Picture-Perfect Feet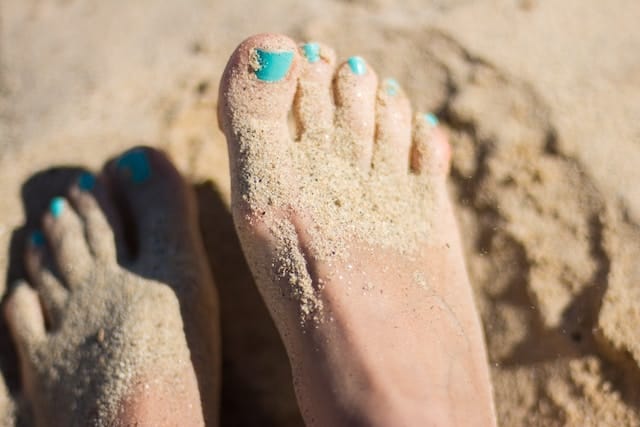 What to Look for in Dead Skin Remover for Feet Products
With so many products claiming to be the best dead skin remover for feet on the market, it can be difficult finding one that is effective.
To help you narrow down your choices and find a product that is actually a good dead skin and callus remover, here are some tips for what to look for.
Ingredients
An effective callus remover will have urea and salicylic acids to exfoliate the dead skin and soften the callus making it easier to remove from the foot.
Look for these active ingredients, and you'll surely experience smooth feet in no time!
Materials
If you're considering a foot file, make sure that it is made of stainless steel. This material prevents bacteria from growing on it and is durable for years of use.
Strength
Not every woman requires a super strength method to remove calluses and dead skin from her feet. In some cases, a gentle exfoliant or foot scrub will do plenty!
However, for stronger dead skin removers, it's a good idea to go with manual removal techniques such as a foot file or peel.
Get Your Feet Picture Perfect with the Best Dead Skin Remover for Feet Products
Are you ready to use what you already have to make an extra thousand dollars per month?!
When you use the best dead skin remover for feet products and methods, you can then use those newly smooth and soft feet to make money right at home.
With a simple picture of your pretty toes, you can sell foot pictures without showing your face and earn hundreds per week!
Want to learn more about how you can start a side hustle and boost your confidence?
Join my newsletter and become part of a large community of empowered women stepping into financial freedom by selling pictures of their feet online.