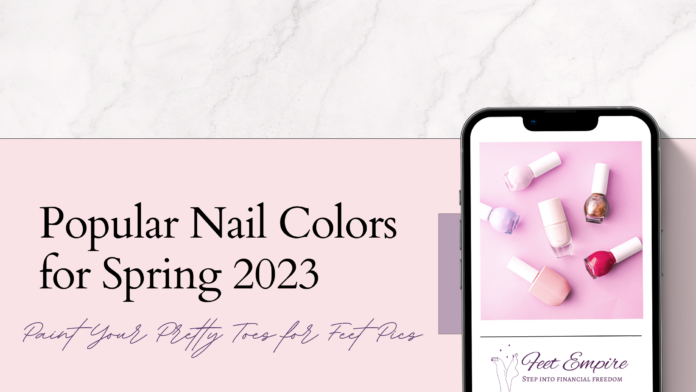 When you choose to sell feet pics without showing your face, it's important to keep your feet content spicy, and attractive. One way to do this is with popular nail colors for spring 2023 on your toes.
Choosing to sell feet pics without anyone knowing means you have to get a bit more creative with your content. Some feet lovers also like to see the model's face or other features, so you have to make your feet pictures stand out against the rest.
When you paint your toes with popular nail trends that go with the season, such as the spring 2023 trends, you'll attract excited buyers. You may even see an increase in how much money you make by using these popular nail colors – and which women seeking financial freedom wouldn't want that?
So, without spending too much time talking about the types of feet pics that sell best and how to make more money, let's dive into the fun part of this blog – the popular nail colors for spring 2023 you can use in your feet pics!
Popular Nail Colors in Spring 2023 for Feet Pics
To keep up with trends, especially when selling feet pics, you'll want to stay updated about the most popular nail colors for spring 2023.
From bright pink to sexy red to more neutral and nature-like colors, I'm sharing all of the nail trends for spring 2023 to make you more money this season on your favorite feet pic-selling websites and platforms.
One of my favorite nail polish brands on the market is OPI, and I couldn't be more excited to share this fun spring nail color. This salmon pink color will brighten up your toes, just in time for the warm weather and longer hours of sunlight.
Neutral colors are in this spring for popular nail colors for selling feet pics. Some buyers simply want a more natural look with their requested barefoot and sole-showing feet pictures.
This dark tan color will look great with virtually every skin tone. Plus, you can't beat the low price for this great quality brand!
You can't go wrong with a popular nail polish color in the red family when selling feet pics online. Sally Hansen's Insta-dry polish isn't just a pretty color, but it's also quick-drying and affordable – perfect for those girlies who need to take a lot of feet content fast.
This is one of the few popular nail colors for spring that you can slide right into summer wearing. The terracotta color is neutral enough to wear consistently but unique enough to make your feet-pic buyers happy and intrigued with your photos.
Take a chance and paint your pretty toes with this fun periwinkle nail polish color. Bright and exciting, you'll spice up your feet pictures with this girlish and cool-toned popular nail polish color.
You can't go wrong with a bit of sparkle! If you like the light purple, periwinkle nail polish colors, then you're going to love this glittery color. Glam up your content and show off some sparkle on those toes with this dewy polish.
Light, girly, and unique, that's exactly how I would describe this exciting mint green color. Sold by Essie in their Expressie line, this quick-drying nail polish is perfect for those feet content creators and foot models who need to take lots of photos and poses in a short period of time.
White is a classic popular nail polish color for spring, especially when it comes to painting your toes. Bright, light, and classy, white toes are sexy for every setting, especially during the spring and summer.
You can seriously never go wrong with a color in the pink family when choosing popular nail colors for spring. This beautiful and bright salmon pink is perfect for enjoying the sunny weather or even taking feet pictures with your toes in the sand.
No woman is ever too old to show her love for Barbie and her iconic pink color, especially on her toes! With the new Barbie movie coming out in spring 2023, feet content creators can honor the release by painting their toes this glittery hot pink color from OPI.
Essie does it again with an exotic and fun popular nail color for spring 2023! This electric purple nail polish will make your toes pop when you take your carefully planned feet photos for feet lovers and clients.
Why Nail Colors are Important for Taking Feet Pics
Nail colors play an essential role in feet pics as they enhance the overall look of your toes and add personality to your photos.
Choosing the right nail color can complement your skin tone, outfit, and mood and can even make your feet look more attractive and eye-catching. Plus, it's a fun and creative way to express yourself and add a personal touch to your photos.
Some of your customers may even request that you wear a specific color when placing personalized content orders. So, it's important to have a wide variety of popular nail polish colors available.
Pro Tip: Save Money on Popular Nail Polish Colors
One of the great things about selling feet pics online and creating a side hustle is that you can write off expenses from your income when you file taxes.
(Yes, you do have to pay taxes when selling feet pics online)
Make sure to keep your receipts and add up how much you spent on popular nail polish colors that you used for your feet pictures. At the end of the year, you could save some money on your taxes.
Sell More Feet Pics with Pretty Nail Polish & The Feet Pic Bible
Popular nail colors for spring isn't the only thing that will help you sell more feet pics. Luckily, you've stumbled across my blog, where I help women seeking financial freedom in a fun and creative way achieve their dreams!
I started selling feet pics about a year ago and earn thousands of dollars per month simply by taking photos and chatting with clients. But believe me, I've made mistakes and fallen for the common scams.
Now, I'm here to help you avoid the mistakes I've made and start earning money fast!
If you are new to selling feet pics online or simply want a refresher on tips and tricks to earn more money, check out my Feet Pic Bible: How to Earn $2k per Month Selling Feet Pics Without Showing Your Face. Get your free copy when you join my newsletter.
It has everything you need – which platforms to use and how to set up your accounts, take high-quality photos, and stay safe while selling feet pics. 
Get your free copy when you join my newsletter!
You can also always reach out to me via email if you have any questions.
Happy selling, ladies!